---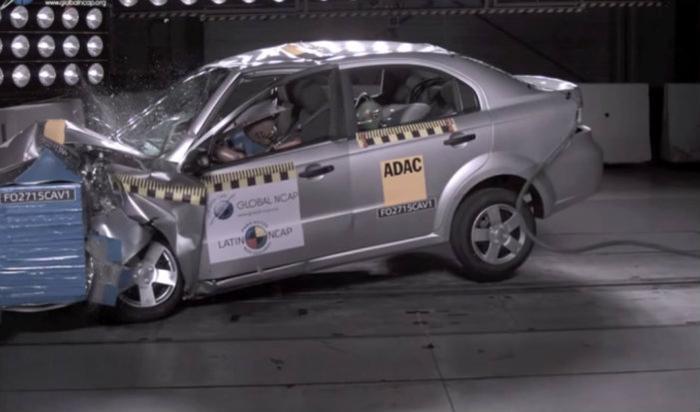 The little Chevrolet Aveo is the best-selling car in Mexico, but a Latin American auto safety group says it may also be the most dangerous. The Aveo recently got a grand total of zero stars out of a possible five in recent crash safety tests conducted by our southern neighbor. 
That may not be too surprising considering that the Aveo is such a basic, no-frills car; its cheapest model doesn't even have airbags. But it's not just the Aveo. The safety advocates say that Chevrolet has consistently flunked similar tests over the past five years.
"When I learned that the Chevrolet Aveo was being sold in Mexico without airbags, I was not surprised at the test results but was surprised and distressed that GM would make such a callous corporate decision to withhold such an essential safety feature from families," said Joan Claybrook, president emeritus of Public Citizen and former administrator of the National Highway Traffic Safety Administration. "For consumers in Mexico it appears that the GM logo on the Chevrolet Aveo really stands for 'Grave Mistake.'"
Safety crusader Ralph Nader said there "should be no double standard between safety features and vehicles sold in the U.S. and vehicles sold in developing countries by major auto manufacturers. Unless, that is, these manufacturers devalue the safety and lives of motorists in poorer countries."
The tests were conducted by the Latin New Car Assessment Program (NCAP), an organization that says it operates throughout Latin America, working to improve occupant protection and car safety. 
General Motors did not respond to a request for comment.
"Worst performing"
"In our recent safety ranking of manufacturer crash performance analyzing the more than sixty car models we've tested, Chevrolet is the worst performing major global manufacturer," said Alejandro Furas, Latin NCAP Secretary General.
The release of the Aveo ratings precede Wednesday's launch of a United Nations conference in Brazil that comes at the midpoint of the UN Decade of Action for Road Safety. 
Latin NCAP rates test cars on how close each vehicle is to meeting minimum UN safety standards. Many countries in the region still fall far short of these goals, although some auto manufacturers' models, particularly Honda, excelled in the most recent tests.
---