---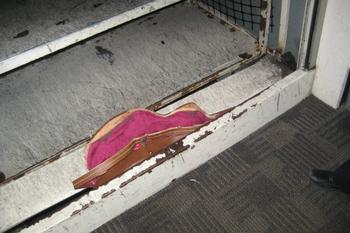 Delta Airlines is not on musician Dave Schneider's good guy list, but Gibson Guitar is.
Delta worked overtime to get on Schneider's bad side. First airline employees refused to let Schneider bring his 1963 Gibson ES-335 TD guitar on a flight to Detroit not long ago. They told him he had to check it.
Then on landing, Schneider discovered that his guitar had been crushed between a service elevator and loading dock at the gate.
Dave turned down Delta's offer of $1,000 for his $10,000 vintage guitar.
Luckily, Gibson came to the rescue by giving Dave a new ES-335, which he picked up a few days ago at Gibson's New York showroom.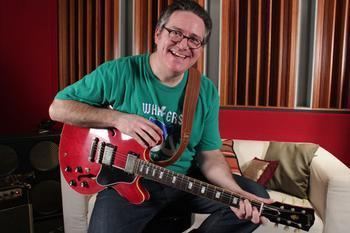 "As soon as we saw the picture of the crushed guitar case and heard Dave's story, we felt immense sympathya for him," said Gibson CEO Henry Juszkiewicz. "For musicians like Dave, instruments are practically members of their family. It was only right to replace his guitar, and we are happy to have him at our showroom."
Dave Schneider is the lead singer of the Zambonis and lead guitarist of a Jewish band called The LeeVees. He says he's happy to be able to continue performing, thanks to Gibson's gift.
---