---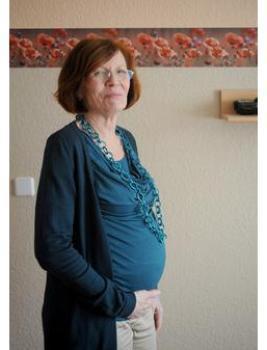 Annegret Raunigk, a school teacher from Germany, just may have the older mom market tied up. Ms. Raunigk is 65 years old and she is pregnant with quads. She is already a mother of 13. She gives the Dugger family from TLC's 19 kids and counting inspiration.
The Russian and English teacher's pregnancy follows several attempts at artificial insemination over the last year-and-a-half. According to German TV channel RTL her 9-year-old daughter wanted a sibling. Raunigk is not only a teacher and mother but a grandmother of 7 as well. Her eldest child is 44.
Mass circulation newspaper Bild am Sonntag reported the four-baby pregnancy on its front-page, quoting the prospective mother of 17 recalling the moment doctors broke the news."After the doctor discovered there were four, I had to give it some thought to begin with," Bild quoted her as saying, adding however she had not considered it an option to reduce the number of embryos.
Her gynecologist, Kai Hertwig, was quoted on the RTL website saying that quadruple pregnancies were always a strain but that everything was currently going well.
Although this is something of a phenomenon she's not the first to have a go at being a mom at the young age of 65. There are a few others who claim this throne.
As long as everything goes well and she remains healthy, Ms. Raugnigk will be the oldest to give birth to quadruplets, but not the oldest to give birth to a child -- that official record is held by Maria del Carmen Bousada Lara, who give birth to twins in Spain in 2006, at the age of 66.
Why do older women want to give birth?
Here in America, part of the reason may center on the fact that women are marrying later in life, due to careers and economics. Also many women are having children on their own, perhaps not finding that right partner and opting to go it alone later in life.
American women are also bombarded by media messages that suggest that technology can extend the age at which a woman can be fertile with little difficulty.
The facts are that the risk of a miscarriage during the first trimester of a pregnancy for women older than 40 is higher (double) than the risk at age 35 or younger, 50% versus 22%, respectively
Not much is known about the extent to which woman are seeking to use technology to have children at older ages in other nations. But the phenomenon is certainly present and growing.
Germany's RTL plans to follow Annegret Raunigk through her pregnancy up until the birth of her children this summer.
---