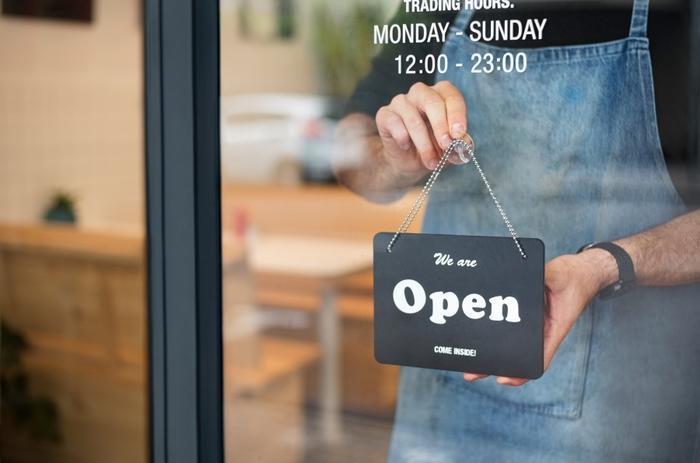 With the stroke of a pen on Monday, Georgia Governor Brian Kemp signed an executive order allowing businesses to reopen this coming Friday with "minimum operations," while still trying to maintain flexibility should the coronavirus pandemic reverse course.
For Kemp, the elephant in the room is the punch that his state's businesses and workers have taken due to the shutdown. "[There are Georgians] going broke worried about whether they can feed their children and make the mortgage payment," the governor said. 
Kemp's list of what businesses can reopen and what types of professionals can return to their job is somewhat peculiar. It includes gyms, bowling alleys, body art studios, barbers, hairdressers, and "nail care artists." Kemp added in a safety valve just in case that requires businesses to tow the line on social distancing and sanitation. If an employer sees anyone exhibiting signs of illness, they're required to get them medical attention.
Former FDA chief Scott Gottlieb weighed in on Kemp's list on CNBC on Tuesday, saying it looks like Kemp picked the riskiest businesses and opened them first.
"I think we should focus on trying to bring people back to work in factories, commercial settings, offices first, then open some of those businesses providing discretionary services second," Gottleib said.
"I understand that the small businesses behind these professions are being badly hurt, but you want to get the economy going and get the businesses that are contributing to the GDP (gross domestic product) first if you can."
Good move or bad move?
In Kemp's way of thinking, the move isn't a leap of faith because he has "favorable data, enhanced testing and approval of our health care professionals" -- not to mention President Trump's yardstick for Opening Up America Again -- to back his decision up.
When Kemp talks data, he's probably leaning on the rolling daily average of the Georgians who have tested positive for COVID-19 and emergency room visits of people with flu-like symptoms. Both of those metrics have shown a favorable move downward according to the state's Department of Health. However, data assembled by John Hopkins University shows that the number of cases in Georgia increased from 7,300 on April 6 to past 18,000 on Sunday. According to another COVID-19 tracker, Georgia is among a handful of states that actually saw an increase in expected deaths last week.
Data aside, healthcare experts think that Kemp's move is risky. Take Gerardo Chowell, an epidemiologist at Georgia State University's School of Public Health. He's fearful that Kemp's move comes way too soon. In comments to NBC News, Chowell said that reopening without adequate public health measures could lead to another wave of infections. 
"If we go back to business as usual, it's going to happen," he said.
Chowell isn't the only healthcare expert bothered by Kemp's decision. CNN's chief medical correspondent Dr. Sanjay Gupta said Monday night that he was "very concerned" about the governor's decision.
"This one is not a tough call," he said. "It doesn't meet the most basic guidelines."
If you go to the top of the expert ladder to Dr. Anthony Fauci, the nation's top infectious diseases expert, his mantra of "You don't make the timeline, the virus makes the timeline" hasn't changed one bit.