---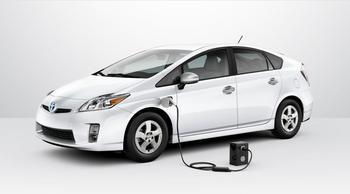 It's not exactly the Indy 500 but Toyota has been staging an automotive competition this summer, pitting eco-conscious drivers against each other to see who can wring the best mileage from their electric vehicles.
Called the Prius Plug-In MPG Challenge, it's a 30-day contest among seven eco-friendly groups and individuals. The goal is to raise awareness of the efficiency of electric vehicles in general and plug-in hybrids in particular.
Toyota is perhaps also hoping to energize sales of the Prius, which have slipped 5% through June. Sales of the Chevrolet Volt, by contrast, are up 12% and sales of Nissan's all-electric Leaf have tripled through June, according to Automotive News.
95 MPGe
The Prius Plug-in hybrid claims an EPA rating of 95 MPGe, or miles per gallon equivalent, an attempt to measure the average distance traveled per unit of energy consumer. It doesn't translate directly to the MPG that's normally applied to internal combustion engines but provides at least some comparison.
One way to wring the highest mileage out of a plug-in hybrid is to plan your trips and drive so that the car stays in the electric mode as much as possible, without switching to the gas engine, which is basically what the competitors in the Toyota contest are trying to do.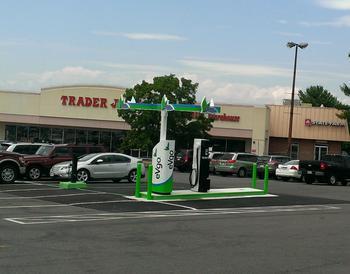 In the first phase of the competition, the Helping Hands Food Pantry, a donation-run group established by a local councilman and minister in Teaneck, N.J., that provides free, supplemental groceries to needy residents, claimed the top spot with an average of 356 MPGe over 506 total miles driven – 261 MPGe more than the vehicle's official estimated average in EV Mode. As a reward, the Helping Hands Food Pantry will receive a $2,500 contribution.
Participants in the second wave of the Toyota Prius Plug-In MPG Challenge include various charities and eco-friendly activists from the New York area.
To be eligible to win, participants must drive a minimum of 300 miles total and 75 miles each week. The highest overall MPG according to the Prius' trip computer per 30-day challenge wins a $2,500 donation to the charity of their choice. Second and third place winners also receive charitable donations of $1,000 and $500. All participants will also receive a $200 gas card.
"The Prius Plug-In MPG Challenge is yet another opportunity for Toyota to demonstrate its commitment to educating drivers on how they can make an ecological difference in this world," said David Christ, general manager of Toyota's New York Region.
---