---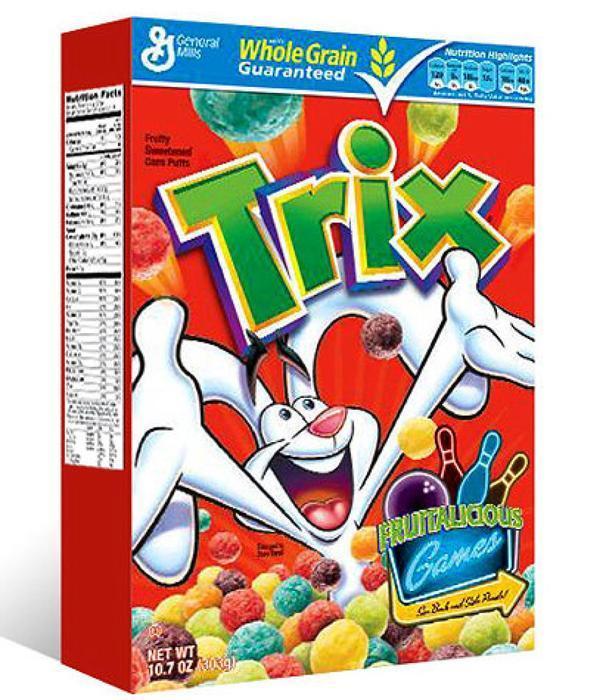 General Mills announced today that it would remove all artificial colors and flavors from its breakfast cereals, starting with Trix, Cocoa Puffs and Reese's Puffs by the end of 2015, and including all General Mills cereals by the end of 2017.
The company says that more than 60% of its current cereal offerings, including Cinnamon Toast Crunch and plain Cheerios, are already made without artificial dyes or flavorings. The transition schedule calls for 90% of its cereals to use natural colors and flavors by the end of 2016 before going 100% artifical-free the next year.
Jim Murphy, president of General Mills' cereal division, said the recipe switch was in response to consumer demand. "At General Mills Cereals, we have been upgrading the nutrition and ingredients in our cereals for years to meet people's needs and desires. We've continued to listen to consumers who want to see more recognizable and familiar ingredients on the labels and challenged ourselves to remove barriers that prevent adults and children from enjoying our cereals."
Fewer colors
The company intends to replace artificial colors such as Red 40, Yellow 6, Blue 1 and others with colors made from fruit and vegetable juice concentrates, or from intensely colored spices such as turmeric (for yellow) and paprika (for red).
Trix will have four colors rather than its current six, because the company says it has not yet found adequate natural substitutes for blue and green dyes.
General Mills is not the only food company this year to announce plans to remove artificial dyes and flavors from its products. In February, Nestle said its candy products would have entirely natural ingredients by the end of 2015, and then in April, Kraft said it would remove artificial color and flavor from its iconic boxed macaroni and cheese by January 2016.
---