---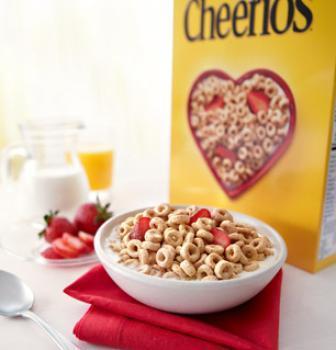 Good news for people who fear genetically modified (GMO) food: General Mills says its that "original Cheerios" don't contain any GMO ingredients.
Yet the announcement, which came in response to pressure from anti-GMO groups -- inspired almost as much controversy as does GMO food itself: Critics range from GMO opponents who say General Mills should ban GMOs from all of its product offerings, to GMO proponents who bashed the cereal company for caving in to anti-GMO scaremongering.
On the FAQ page at Cheerios.com, General Mills said
"We don't use genetically modified ingredients in original Cheerios. Our principal ingredient has always been whole grain oats – and there are no GMO oats. We use a small amount of corn starch in cooking, and just one gram of sugar per serving for taste. But our corn starch comes from non-GMO corn, and we use only non-GMO pure cane sugar."
Not everyone approves, though. When the Chicago Tribune reported the story, the commenters were divided between those who supported General Mills' decision, and those who deplored it. One typical example of the latter wrote, "General Mills backs down to the anti-science scaremongers is more like it," whereas a GMO opponent later said, "It's time to ban all GMO grown food crops including those used for animal feed."
Still, the comment controversy on media outlets like the Tribune paled in comparison to the argument on Cheerios' own FAQ page. When one person wrote "I'm glad your original Cheerios are now GMO-free. I'm dismayed, though, that you state that GMO's are safe. Many independent studies have proven that they are NOT safe and GMO's have been banned in many countries as a result," another immediately responded: "What you are saying seems to be incorrect. GMO Skepti-Forum has been searching for quality, peer-reviewed studies showing harm from GMOs; however, we've yet to find one that survives scrutiny."
That said, among GMO opponents, "safety" is not always their primary concern. As another FAQ-page commenter argued: "It is not just a question if GMO's are 'safe.' It is a question of companies like Monsanto using the excuse of them to try to take over the corn seeds of the world. I really hope you listen and remember that for each person who takes the time to tell you something that another couple thousand at least feel the same way but will not speak about it or write you. We WILL stop eating your products and WE WILL make sure the word is spread through social media. The Food and Drug Administration is LED by former CEO and or Attorney for Monsanto so what they say has no validity. Good for the countries that are not allowing Monsanto into their fields."
The science of genetics and genetic modification is still in its infancy, and trying to predict what its future holds is like looking at a newborn baby and trying to predict what she'll be like as an adult. But we feel pretty confident in predicting that the controversies surrounding genetic modification won't go away anytime soon, regardless of any pronouncements made by General Mills.
---