---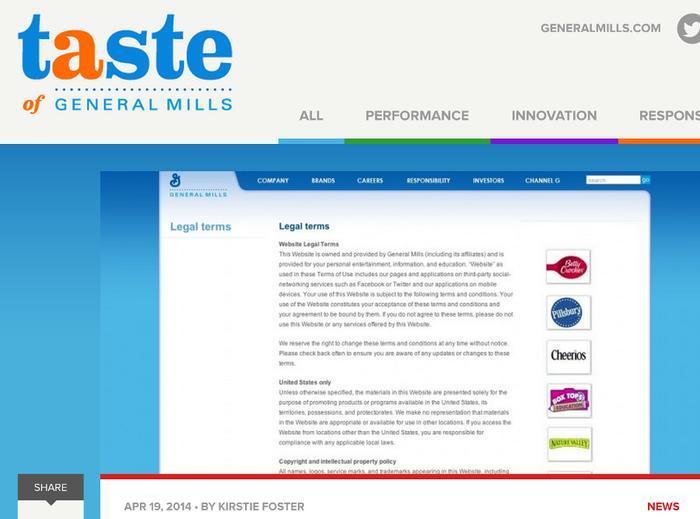 Good news for fans of General Mills food products — the company has backed down from its earlier attempt to insist that any and all customers who use a discount coupon or sign up for a promotional offer waive their right to sue the company should their food prove to be tainted or anything.
The short-lived controversy started early in April, when General Mills quietly made some changes to its online legal and privacy policies. Between April 2 and last week, if you visited General Mill's website and read through all the privacy policies and legal disclaimers and all other fine print, you would have discovered that
These terms are a binding legal agreement ("Agreement") between you and General Mills. In exchange for the benefits, discounts, content, features, services, or other offerings that you receive or have access to by using our websites, joining our sites as a member, joining our online community, subscribing to our email newsletters, downloading or printing a digital coupon, entering a sweepstakes or contest, redeeming a promotional offer, or otherwise participating in any other General Mills offering, you are agreeing to these terms.
Of course, your decision to do any of these things (i.e., to use or join our site or online community, to subscribe to our emails, to download or print a digital coupon, to enter a sweepstakes or contest, to take advantage of a promotional offer, or otherwise participate in any other General Mills offering) is entirely voluntary. But if you choose to do any of these things, then you agree to be bound by this Agreement.
And what, exactly, were the "terms" of this capital-A "Agreement"?
ANY DISPUTE OR CLAIM MADE BY YOU AGAINST GENERAL MILLS ARISING OUT OF OR RELATING TO THIS AGREEMENT OR YOUR PURCHASE OR USE OF ANY GENERAL MILLS SERVICE OR PRODUCT (INCLUDING GENERAL MILLS PRODUCTS PURCHASED AT ONLINE OR PHYSICAL STORES FOR PERSONAL OR HOUSEHOLD USE) REGARDLESS OF WHETHER SUCH DISPUTE OR CLAIM IS BASED IN CONTRACT, TORT, STATUTE, FRAUD, MISREPRESENTATION, OR ANY OTHER LEGAL THEORY (TOGETHER, A "DISPUTE") WILL BE RESOLVED BY INFORMAL NEGOTIATIONS OR THROUGH BINDING ARBITRATION, AS DESCRIBED BELOW.
Despite the bold-print all-caps underline font, this new and presumably improved legal policy General Mills decided to inflict upon its customers went largely unnoticed until Wednesday, April 16, when The New York Times first reported the changes.
"Widely misread"
That story sparked an international firestorm of outrage, enough that by Saturday, the company backtracked. On April 19, "Taste of General Mills" (the company's official blog) put up a post saying "We've listened—and we're changing our legal terms back." What had the General Mills official blogger to say about the brouhaha?
"As has been widely reported, General Mills recently posted a revised set of Legal Terms on our websites. Those terms – and our intentions – were widely misread, causing concern among consumers.

"So we've listened – and we're changing them back to what they were before."
Hmm. The word "misread" suggests some sort of misunderstanding or false impression, among those who thought "This whole thing sounds like a fantastically bad idea for consumers." The blogger went on to explain:
"We rarely have disputes with consumers – and arbitration would have simply streamlined how complaints are handled. Many companies do the same, and we felt it would be helpful.

"But consumers didn't like it."
True, "many companies" do the same, because it is indeed helpful to a company looking to reduce its liability costs. In 2011, the Supreme Court ruled in favor of AT&T, basically allowing the company to put fine print in its service contracts mandating forced arbitration rather than class-action suits should customers have any complaints or disputes. An attorney for Public Citizen called the decision "a shield against corporate accountability."
This in turn likely explains why consumers don't like it, as the General Mills blogger noted. It's also possible that consumers, when buying food for themselves and their families to consume, might for health-and-safety reasons have much, much stricter standards than when they're buying cell phone plans.
Who would have thought?
Either way, General Mills and its official blogger were surprised by the backlash:
"We'll just add that we never imagined this reaction."
It's possible they never expected anyone would notice. General Mills didn't exactly go out of its way to promote its new policies — a thin gray bar atop the General Mills online privacy-policy page is easy for the average person trying to download a coupon off a Betty Crocker page to overlook.
Still, at the end of the blog post, General Mills did say this:
On behalf of our company and our brands, we would also like to apologize. We're sorry we even started down this path. And we do hope you'll accept our apology. We also hope that you'll continue to download product coupons, talk to us on social media, or look for recipes on our websites.

Our legal terms? You'll find them right on our website. You'll also find they're back to what they always were.
That's true, and there's no longer any mention of forced arbitration. Instead, the "Choice of Law and Enforcement" section says this:
Your access to the Website as well as the terms and conditions and the agreement they create are governed and interpreted by the laws of the United States without regard for conflict of laws provisions.
A U.S. company subject to U.S. law – sounds fair. Though the legal terms also say this: "We reserve the right to change these terms and conditions at any time without notice. Please check back often to ensure you are aware of any updates or changes to these terms."
Indeed. Last time General Mills changed its terms without notice, they tried attaching a forced-arbitration clause to it.
---