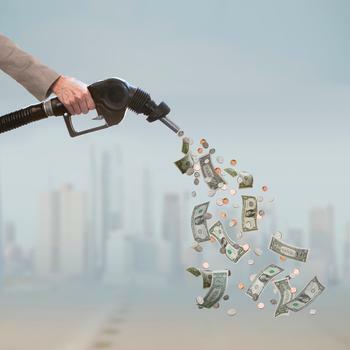 The price of gasoline moved higher again this week but at a slower pace than earlier this month. But with the sudden pick-up in demand, industry analysts say prices could increase more quickly in the months ahead.
The AAA Fuel Gauge Survey shows that the national average price of regular gas today is $2.42 a gallon, three cents higher than a week ago. Prices are 17 cents higher than a month ago. The average price of premium gas is $3 a gallon, up from $2.98 last Friday. The price of diesel fuel is $2.64 a gallon, a penny more than seven days ago.
The Energy Information Administration (EIA) recently reported a sharp increase in gasoline demand, rising from 7.53 million barrels a day to 8.11 million barrels. However, that has had little impact on gasoline supplies, saving motorists from a big increase at the gas pump.
"Most motorists continue to see gas prices increase, but at a slower rate than the past few weeks," said Jeanette Casselano McGee, a AAA spokesperson. "Part of that is due to more stable crude oil prices throughout January. However, if demand continues another week of substantial increases, we can expect to see pump prices get more expensive."
The states with the most expensive gas
These states currently have the highest prices for regular gas, according to the AAA Fuel Gauge Survey:
California ($3.39)

Hawaii ($3.35)

Washington ($2.82)

Nevada ($2.75)

Pennsylvania ($2.70)

Oregon ($2.69)

Alaska ($2.62)

Illinois ($2.59)

New Jersey ($2.55)

New York ($2.50)
The states with the cheapest regular gas
The survey found these states currently have the lowest prices for regular gas:
Mississippi ($2.10)

Oklahoma ($2.14)

Texas ($2.12)

Missouri ($2.14)

Louisiana ($2.14)

Arkansas ($2.17)

Alabama ($2.17)

South Carolina ($2.18)

Kansas ($2.19)

Tennessee ($2.22)