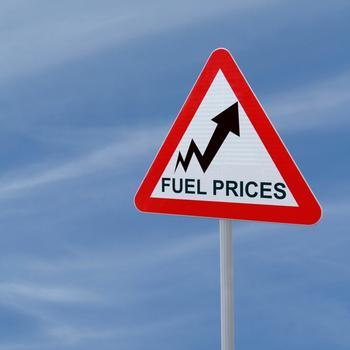 The price of gasoline has not stopped going up, but at least it's not going up as fast.
The AAA Fuel Gauge Survey shows the average price of regular has risen three cents a gallon to $2.83 in the last week. That follows a nine cent rise during the previous seven days.
The average price of premium is $3.39 a gallon, six cents higher than the previous Friday. The average price of diesel fuel is $3.07 a gallon, two cents higher than last week.
Prices have begun to moderate ahead of their expected peak around Memorial Day weekend, but the exception is in California. The average price of regular gas in the Golden State is $4.02 a gallon -- the only state to cross that $4 benchmark. The price is up 10 cents a gallon in the last week and has risen 68 cents over the last month.
According to AAA, the price spike has been caused by both the planned and unexpected maintenance in the state's oil refineries.
"Out of California's 10 refineries, six have seen a reduction in refined products output, including gasoline, due to maintenance upgrades and necessary repairs," AAA said in its latest market update.
At the same time, refineries are switching over to the production of summer-grade gasoline, which is more expensive than winter blends. Currently, there is a 52 cents a gallon difference between California's average gas price and the average price in Alabama, the cheapest state.
The states with the most expensive regular gas
These states currently have the highest prices for regular gas, according to the AAA Fuel Gauge Survey:
California ($4.02)

Hawaii ($3.60)

Washington ($3.44)

Oregon ($3.34)

Nevada ($3.30)

Alaska ($3.23)

Pennsylvania ($2.98)

Arizona ($3.01)

Illinois ($2.95)

Idaho ($2.86)
The states with the cheapest regular gas
The survey found these states currently have the lowest prices for regular gas:
Alabama ($2.50)

Mississippi ($2.52)

Arkansas ($2.53)

South Carolina ($2.53)

Louisiana ($2.54)

Texas ($2.58)

Virginia ($2.58)

Missouri ($2.59)

Oklahoma ($2.60)

Tennessee ($2.61)