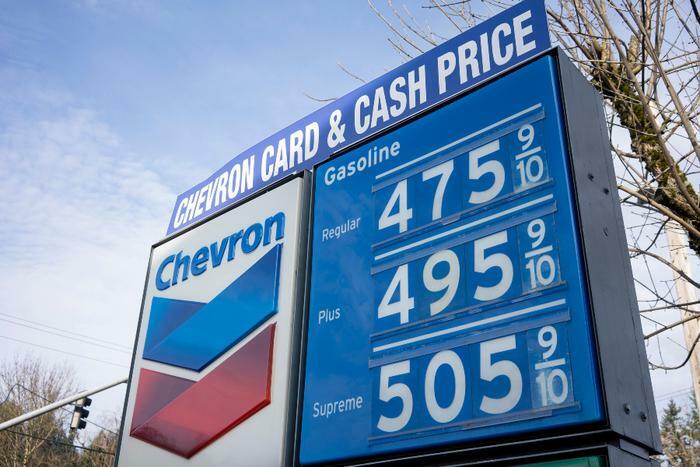 Motorists found no relief at the gas pump this week. With higher demand because of the Memorial Day weekend and surging oil prices, gas prices are setting daily record highs.
The AAA daily fuel price survey shows that the national average price of regular gas is a record $4.76 a gallon, an increase of 17 cents over last Friday. That's about 56 cents a gallon higher than a month ago. The average price of premium gas is $5.39 a gallon, a 14-cent gain over a week ago. The average price of diesel fuel is $5.58, just five cents a gallon higher than last week.
A handful of states suspended their state gas tax this week, providing residents some immediate relief. Drivers in New York saw the price of regular drop by 11 cents a gallon.
But in most of the country, prices were moving higher. The statewide average price surged by 37 cents a gallon in Michigan, 31 cents in Illinois, 19 cents in Nebraska, 17 cents in Oklahoma, 15 cents in California and Kansas, 14 cents in Arizona, Arkansas, and Missouri, 13 cents in Nevada, and 10 cents in Oregon.
On Thursday, GasBuddy's Patrick DeHaan reported on Twitter that U.S. gasoline inventories had ended May at their lowest level since 2014, suggesting that there will be no letup in pain at the pump.
States with the most expensive gas
These states currently have the highest prices for regular gas, according to AAA:
California ($6.24)       

Hawaii ($5.46)     

Nevada ($5.37)  

Washington ($5.28) 

Oregon ($5.28)   

Illinois ($5.27)   

Alaska ($5.25)

Arizona ($5.06)  

Michigan ($4.93) 

Indiana ($4.92)      
States with the cheapest gas
AAA reports that these states currently have the lowest prices for regular gas:
Georgia ($4.20)

Mississippi ($4.25)

Arkansas ($4.25)       

Oklahoma ($4.27)  

Kansas ($4.27)   

Louisiana ($4.29)  

Missouri ($4.31)    

South Carolina ($4.31)

Nebraska ($4.37)      

Tennessee ($4.36)