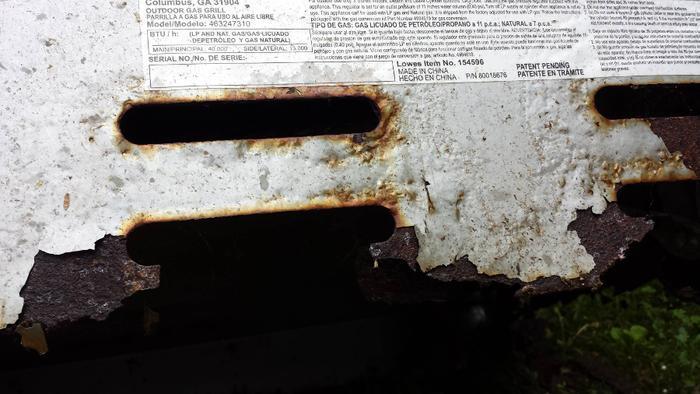 It's that time of the year -- time to haul the gas grill out to the patio and fire it up. This often turns out not to be as easy as it sounds. Many grills sit outside all winter and the damp, cold weather takes its toll, even when the grill is covered, as Jill of North Babylon, N.Y. discovered.
"Grill remained covered all winter, and still rusted out. I went to move the grill and the wheels collapsed from rust and fell on me!" Jill said of her Char-Broil grill. "I see online others posted pics with the same exact problem. The grates do not last even if you bring them in, they deteriorate and are a pain to clean!"
It's not always rust that's the problem. Heather of Evansville, Ind., was using her Char-Broil for only the second time. She had kept it clean and covered up when not in use, she said, but things quickly went awry anyway.
"Fired it up and went in to get my meat, and when I returned the grill was on FIRE! Flames were pouring out the front and I couldn't even turn it off because the knobs had melted and disintegrated. The ignition knob had melted along with the wires connecting the side burner," Heather said. "I had to spray water on it in order to get the fire down enough to shut it down at the propane tank. ... Never in my life have I seen something like this with a new grill."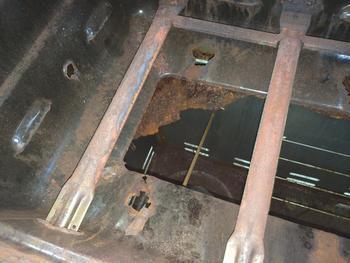 Then there's Bob of Battle Creek, Mich., who describes his grill as "total junk," thanks to recurring rust problems.
"They sent new burners when i paid shipping and I also bought both parts of the grates flame tamers cross-over tubes. One year later it is all junk again," Bob said. "All the other stuff is rusted through and crumbling and now the tub is rusted out. The parts to replace are more than a brand new grill."
Universal problem?
It's not just Char-Broil grills that are prone to rusting and other problems, of course. We've heard recently about Kenmore about Sue from Wharton, N.J.
"We purchased a 4-burner gas grill from Sears in July 2012. The tray below the burners is already rusted out. The grill is kept on the deck covered at all times. I called customer solutions to help, but the only answer I received was that I would have to pay $96 to repair it."
Dave of Sunrise, Fla., is steamed about his Brinkmann Zone LP.NG grill -- but not because it rusted or caught fire.
"It does not get hot enough to sear, it bakes rather than grills," Dave said, adding that he purchased the natural gas conversion kit for $60 but found to his dismay that the kit came with no instructions. "I have been trying to contact Brinkmann for a week now ... they have an automated system to call back and they NEVER called me back."
Lost it all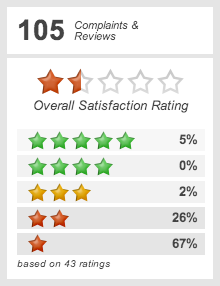 But while Char-Broil and Brinkmann are leading the gas grill complaint derby so far this year, that old standby Weber is not sitting on the sidelines.
"We purchased a new Weber gas grill from Home Depot. We used it to cook two pork chops the day after we purchased it," said Carrie of Bedford, Va. "My husband lit it for the second time to cook a couple of steaks. The steaks never made it to the grill. After turning on the burners to preheat the grill, there was a boom and the grill was shooting 8-foot flames out of the back.
"The flames were so instantly big that they jumped to my house. It was only minutes before the house was ablaze. We lost it all. We are now using charcoal and will never buy anything from Weber again," Carrie concluded.
Safety tips
Not everyone is an unfortunate as Carrier but the U.S. Consumer Product Safety Commission (CPSC) says that damage and injuries from gas grills are common, with an average of 30 people injured by fires and explosions each year.
Many of the fires and explosions occur when consumers first use a grill that has been left idle for a period of time or just after refilling and reattaching the grill's gas container, CPSC notes. To reduce the risk of fire or explosion, consumers should routinely perform the following safety checks:
-- Check the tubes that lead into the burner for any blockage from insects, spiders, or food grease. Use a pipe cleaner or wire to clear blockage and push it through to the main part of the burner.
-- Check grill hoses for cracking, brittleness, holes, and leaks. Make sure there are no sharp bends in the hose or tubing.
-- Move gas hoses as far away as possible from hot surfaces and dripping hot grease. If you can't move the hoses, install a heat shield to protect them.
-- Replace scratched or nicked connectors, which can eventually leak gas.
-- Check for gas leaks, following the manufacturer's instructions, if you smell gas or when you reconnect the grill to the LP gas container. If you detect a leak, immediately turn off the gas and don't attempt to light the grill until the leak is fixed.
-- Keep lighted cigarettes, matches, or open flames away from a leaking grill.
-- Never use a grill indoors. Use the grill at least 10 feet away from your house or any building. Do not use the grill in a garage, breezeway, carport, porch, or under a surface that can catch fire.
-- Do not attempt to repair the tank valve or the appliance yourself. See an LP gas dealer or a qualified appliance repair person.
-- Always follow the manufacturer's instructions that accompany the grill.