---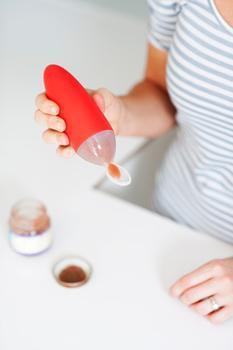 For many, the nine months of pregnancy can be an anticipatory blur, and during that time Mom and Dad will do everything in their power to make sure the baby's room is complete, they have an overstock of baby products and they have everything that's needed to make their new roles as parents successful.
And when it comes to deciding what the baby will need, most will go the traditional route and first buy the usual things like strollers, cradles and playpens. Others who may be a little more into gadgetry may purchase the newest and latest electronics to help them take care of their little ones.
Like the Squirt Baby Food Dispensing Spoon that allows parents to feed their babies without the use of a jar, as the baby food is placed in the spoons' handle and is released as the adult squeezes it.
The Squirt is also said to be safe because no matter how much you squeeze it, it only dispenses one bite of food at a time, and with parents being able to feed their child with only one hand, it will allow them to use the other hand to do other things like wipe the baby's mouth.
The spoon also holds three ounces of baby food at a time and is designed for children as young as four months. The company that made the Squirt spoon also says it's dishwasher safe and completely BPA-free.
You can purchase the Squirt at many popular retailers like Bed Bath & Beyond for about $8 and it's supposed to make meal time for your baby a lot less messy, and the bright colors and toy look of the spoon may provide a bit of entertainment for your baby.
It also comes with a storage cap so the food in the body of the spoon can be stored for later use.
iPotty
Another product that's bound to make the life of new parents a little easier, but will also provide some fun for your baby is the digital iPotty, made by the company CTA digital.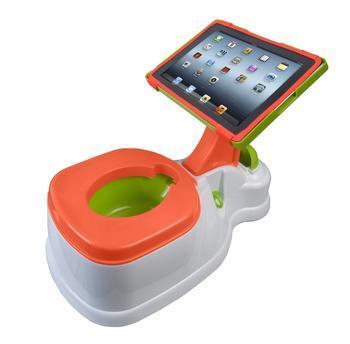 Upon first glance the iPotty looks very unusual as its part training potty and part computer work station, but the idea here is to entertain your child while they're learning to use the bathroom by themselves, which is supposed to make things a lot easier.
The potty itself is attached to a stand that's supposed to hold your iPad safely in place, so kids can use apps or play games while they're learning the fine art of toilet usage.
It also comes with a protective screen cover so your device doesn't become messy or damaged and the stand will rotate 360 degrees, which allows your baby to use the iPad either horizontally or vertically.
You can also remove the potty part of the contraption so it can be used as a chair and gaming station that your child will probably use for hours on end if you allow them to
The digital iPotty is sold for 39.99 on Amazon, but won't be available until March 1, 2013.
Sound Sleeper
Then there's the Dex Baby Sound Sleeper, which was made to help keep your baby asleep by releasing a collection of peaceful sounds.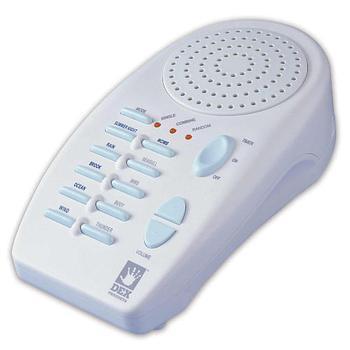 In all, the electronic device has about 34 different sounds and creates noises your baby will be accustomed to like the sounds made inside of a mother's womb, and it also has a timer so you're able to program how long you want the noises to run.
In addition, the Sound Sleeper is supposed to keep baby sleeping longer, so parents are able to get their rest and it also comes with a volume control so the noises can be contained to a specific area.
The device can also be used to block out other sounds in the house that may keep your baby awake, so other occupants of the home don't have to tiptoe or whisper while the baby is snoozing.
Babies 'R' Us sells the Sound Sleeper for a little under $30, which is a pretty good buy when you think of the potential benefits it offers.
Keep It Kleen
This next product is only $3.95 on the site Babyearth.com and it's a pacifier that stays clean when it's dropped. After all, most babies only keep pacifiers in their mouths for about 50 percent of the time.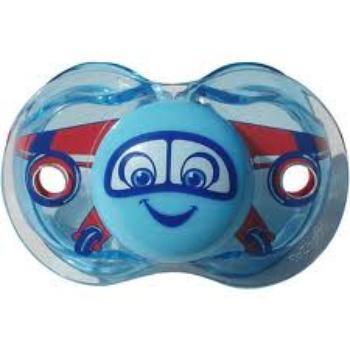 The Keep-it-Kleen pacifier is made by the company Razbaby and comes with a specially designed shield that will close up around the pacifier whenever it's dropped on the floor, so the rubbery nipple part stays protected which can lessen the chance of your child ingesting dirt, dust or excess germs.
The nipple of pacifier is made from a material called Silicone Orthodontic, and is recommended for children up to 36 months of age.
Plus, the general Internet feedback on the Keep-it-Kleen is really good, as most say the protective shield works without fail whenever the pacifier is dropped, no matter how many times it happens.
The pacifiers come in 15 different styles, all having cute little characters like Adam Airplane or Bobby Bear so your baby can also use it like a toy, which they probably will.
Look, there will be a lot of items your baby will need that will run you a lot of cash, whether it's baby room furniture or the continuous amount of diapers that you'll need until they master that digital potty, but at least not all of the products you'll need to buy will damage your wallet, because you'll have the rest of your child's life to get that opportunity.
---