---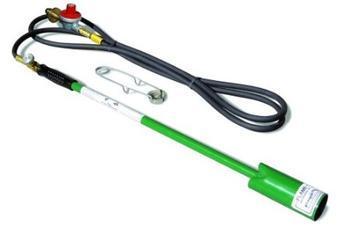 We still have a little ways to go until spring officially hits but before you know it, it'll be time to replace your shovels and ice scrapers with your garden hoses and sprinklers.
And to get a jump on getting your lawn in tip-top shape this year, we found a few tools to assist you. Not only will these garden and lawn aids save you time and back-breaking work, they're also pretty unique and cool to look at, not to mention cool to own -- like the Weed Dragon propane weed remover on Amazon and Walmart.com for $56.
If you grew up like I did, then pulling weeds in or around the family garden was part of your responsibility and no matter how young and in shape you were, crouching down and bending over to yank out a countless amount of weeds certainly wasn't an easy task, so the Weed Dragon would have come in pretty handy back then. Note, however, that this is made for adults since it uses propane gas to remove the weeds. Sorry, kids, you'll have to stick with the old methods.
The creators of the Weed Dragon say it's perfect for those who don't need the full power of a farm torch so it's properly scaled down for simple use. The company also says by using the Dragon you'll cut down on your need to mow or use chemical sprays to remove those weeds that are typically hard to reach.
The device comes already assembled and is able to connect to any reusable propane tank and it can also be connected to barbeque cylinders says the company. And besides the Dragon being used for weed removal, it can also be used to thaw frozen water pipes, melt snow or ice on your driveway or patio and it can also be used to light charcoal or to light campfires when you go on camping trips.
Before you rush to order this, go out to your deck or backyard and hoist a full propane tank. Yes, they're heavy and you'll have to carry one around to power the Weed Dragon, but you'll still avoid some of the bending and kneeling. Nevertheless, it could save a lot of wear and tear on that precious back of yours, which you'll probably need for small things like walking and moving at some point.
Robotic Lawn Mower
The Hondo Miimo Robotic Lawn Mower is for those folks who want a nice lawn so they can maintain that manicured look of their neighborhood, but don't feel like trekking up and down their yard every week to do so.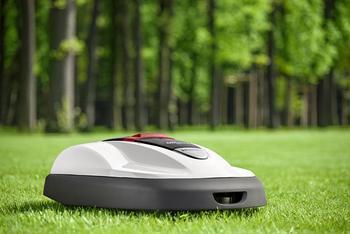 Honda says the automatic mower continuously cuts 2 to 3 millimeters of grass at a time until your entire yard is cut, and it doesn't need a bag, as the razors cut the grass so fine that it can be left on the lawn and be used as a natural fertilizer.
The Miimo is controlled by a border wire that the user installs slightly beneath the ground or within the lawn itself and the device is self-charging, so the Miimo will automatically slither back to its docking station whenever it's running low on battery power.
Honda hasn't announced a price for the Miimo just yet, as its rumored to hit European markets first, then the U.S. sometime later this year, but there have been reports that prices will be somewhere in the neighborhood of $1,600, which is quite pricey, but if cutting the grass isn't your thing, but having a nice lawn is, the hefty dollar amount of this device might be worth it for you.
Also, if you pay a lawn service to keep your lawn trim, the Miimo might pay for itself in a year or so.
Cordless shears
Then there are the Gardena Cordless Grass Shears that you can get on Amazon for about $130, which is a far cry from those rusty old fashioned hedge clippers that seem to lose sharpness pretty quickly.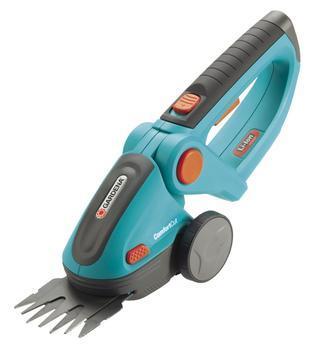 The cutting width of the Gardena is 3.15 inches. It comes with blade protection and a charger for its two lithium ion batteries.
The company says that by charging the cordless trimmer for about six hours it will give you about 90 minutes of use before it has to be charged again, which isn't the longest time in between charges, but the time you save by using this futuristic hedge clipper should make up for the short operating time.
With this device, you can quickly trim those hedges and get back to doing whatever you enjoy more, which is probably most things when you think about how annoying yard work can be.
Indoor garden
This last item is perfect for folks like me, who have a stellar history of killing plants of all kinds, regardless of how careful I am to follow the care instructions and although it's used indoors unlike the other products mentioned here, it can still be a cool addition to the items that you buy when doing your spring shopping for your home and yard.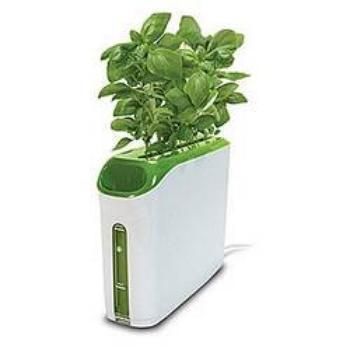 The Prepara Soilless Indoor Garden grows plants without the use of soil and the company says it will work with just about any kind of seeds you put into it.
All one has to do is place the seeds into the sponge like material that holds them, place one of the covers over the seed and add a little bit of water to the plant mix that comes in the box.
So basically, there's no fuss, no soil, no dirty hands and most importantly no guess work it deciding how much water or light the plant needs. The machine also ideal for those who may not have a yard or the space to grow outdoor plants, as the Prepara Soilless Indoor Garden can be used near a window, on a fire escape or on a balcony, so it's perfect for city dwellers.
You can snag this guaranteed plant grower at Amazon for about $55.
---