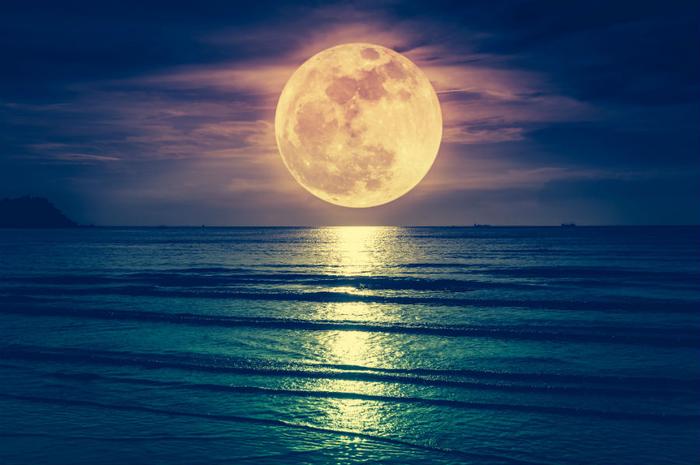 January 2018 will be a big month for the moon, as several fairly rare lunar events will all coincide in one month: a blue moon (two full moons in one month) will occur in tandem with the moon's closest orbital path to earth–making both of these "supermoons"–and a full lunar eclipse.
"Supermoons" earn their title because they appear bigger and brighter in the sky as a result of the moon orbiting closer than usual to Earth. These moons generally make an appearance every 13 months, according to NASA. 
NASA notes that seeing two full moons in a month only occurs every two and a half years.
When to catch it
The first full moon of the year is traditionally referred to as a Wolf Moon because it first "appeared when wolves howled in hunger outside of villages," according to the Old Farmer's Almanac.
The wolf moon of 2018 is set to occur on Jan. 1 at 9:24 p.m. EST. 
"Moonrise in New York City that day is at 4:34 p.m. local time, just a few minutes before sunset which happens at 4:39 p.m," according to Space.com.
"So the Wolf moon will briefly share the sky with the sun, though you'll need a view of a relatively flat, unobscured horizon to see it happen."
Full moon lunar eclipse
Later in the month, on Jan. 31, another supermoon will appear and will feature a total lunar eclipse. NASA says this full moon won't be as bright, but it will "take on an eerie, fainter-than-normal glow" or even a "reddish hue," hence the phrase "blood moon". 
Since this eclipse will affect a blue moon, you may see it called a blue blood moon.
This event will be visible from western North America through the Pacific Ocean to eastern Asia. 
"The lunar eclipse on January 31 will be visible during moonset. Folks in the Eastern United States, where the eclipse will be partial, will have to get up in the morning to see it,"  Noah Petro, a research scientist from NASA's Goddard Space Flight Center, said in a statement.
Experts say the best time to view a full supermoon is right after moonrise, when the moon is just above the horizon.