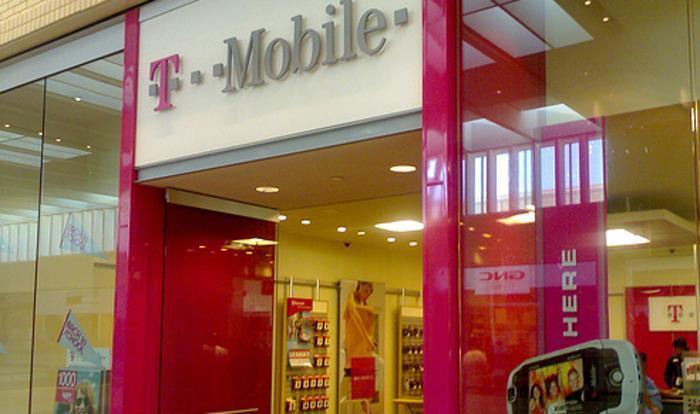 T-Mobile has been portraying itself as the consumer's friend lately, offering free "test drives," cutting international roaming charges and offering phones with no long-term contracts.
But the Federal Trade Commission paints a different picture. In a complaint filed today, the agency says T-Mobile has made hundreds of millions of dollars through bogus "premium" SMS subscriptions.
The FTC alleges that T-Mobile received anywhere from 35 to 40 percent of the total amount charged to consumers for subscriptions for content such as flirting tips, horoscope information or celebrity gossip that typically cost $9.99 per month. According to the FTC's complaint, T-Mobile in some cases continued to bill its customers for these services offered by scammers years after becoming aware of signs that the charges were fraudulent.
"It's wrong for a company like T-Mobile to profit from scams against its customers when there were clear warning signs the charges it was imposing were fraudulent," said FTC Chairwoman Edith Ramirez. "The FTC's goal is to ensure that T-Mobile repays all its customers for these crammed charges."
123 pages later ...
The FTC supplied these excerpts from an actual T-Mobile bill and noted that Page 1 hides the third-party charges, labeling them "Usage Charges." It is not until page 123 that, under "Premium Services, Other Service Provider Charges," the "Brain Facts" text alerts show in the Description field as 8888906150 BrnStorm23918, total $9.99.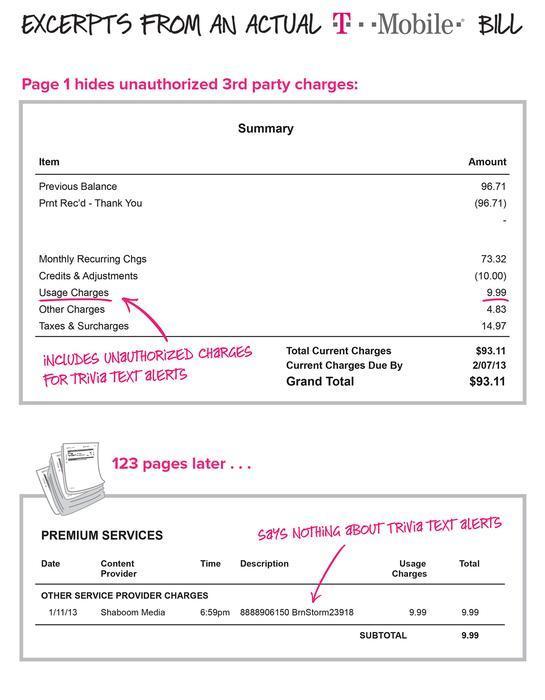 In a process known as "third-party billing," a phone company places charges on a consumer's bill for services offered by another company, often receiving a substantial percentage of the amount charged. When the charges are placed on the bill without the consumer's authorization, it is known as "cramming."
The FTC's complaint alleges that in some cases, T-Mobile was charging consumers for services that had refund rates of up to 40 percent in a single month.
The FTC has alleged that because such a large number of people were seeking refunds, it was an obvious sign to T-Mobile that the charges were never authorized by its customers.
When consumers were able to determine they were being charged for services they hadn't ordered, the complaint alleges that T-Mobile in many cases failed to provide consumers with full refunds. Indeed, the FTC charged that T-Mobile refused refunds to some customers, offering only partial refunds of two months' worth of the charges to others, and in other cases instructed consumers to seek refunds directly from the scammers – without providing accurate contact information to do so.
The complaint also notes that in some cases, T-Mobile claimed that consumers had authorized the charges despite having no proof of consumers doing so.