---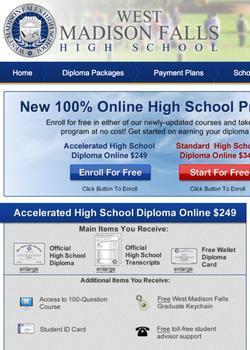 Just about every high school kid would like to cut class and study at home, which usually translates to sleeping, texting, and gaming. But that doesn't mean that online "high schools" offer anything of value.
In fact, the Federal Trade Commission says two online high schools are little more than diploma mills that mislead consumers into thinking they can get a legitimate diploma or GED for as little as $135.
"The defendants took advantage of people who wanted a high school diploma," said Jessica Rich, Director of the FTC's Bureau of Consumer Protection. "If a company says you can get a diploma in no time at all or by simply taking an online test, it's almost certainly a scam."
In its federal court complaints, the FTC alleges that the "schools" mislead consumers about their legitimacy, using names like West Madison Falls High School, Columbia Northern High School, Stafford High School, and many others.
Documents filed by the FTC in both cases allege that the operations bought a number of website names designed to look like legitimate online high schools and use deceptive metatags with terms like "GED" and "GED online" to bring the bogus sites higher in search rankings. Once consumers arrive at the schools' sites, they are met with messages that imply that the diplomas offered by the defendants are equivalent to an actual high school diploma.
According to the FTC documents, the "courses" amount to four untimed, unmonitored multiple-choice tests, requiring that students answer 70 percent of each test correctly.
The defendants also mislead consumers with statements about membership in accrediting bodies that do not exist and are creations of the defendants themselves, according to the FTC's complaints.
The FTC's filings ask the court to put in place a temporary restraining order halting the operations and freezing the assets of the two separate sets of defendants: Stepping Stonez Development, LLC, also doing business as American Certification Specialists, Intentional Growth, LLC, and Stephen J Remley; and Capitol Network Distance Learning Programs, LLC, Capitol Network Digital Licensing Programs, LLC, Veritas Sales, Inc., Nicholas A. Pollicino, Anthony J. Clavien, and Adam F. Pollicino.
---