---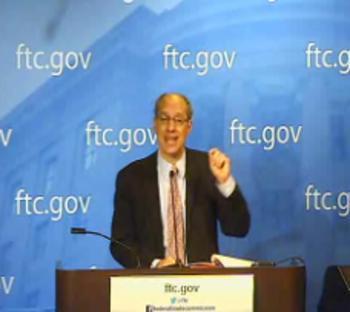 Saying that the "facts just weren't there" to support charges of biased search results, the Federal Trade Commission today closed its 19-month investigation into Google after wresting the search giant's agreement to change some of its business practices that could stifle competition in the markets for popular devices such as smart phones, tablets and gaming consoles, as well as the market for online search advertising.
Pressed by reporters at a news conference, FTC Chairman Jon Leibowitz said that by a 5-0 vote, the bipartisan commission agreed that it had not found evidence that Google search results were purposely biased to unfairly promote its own products over those of competitors.
Leibowitz said the commission had "examined 9 million pages of documents, interviewed numerous industry participants and took sworn testimony of key Google executives."
Leibowitz conceded that while "some evidence suggested Google was trying to eliminate competition" through changes in the format of its search results and frequent tweaking of its search algorithms, the commission had concluded that "Google's primary reason for changing the look and feel was to improve the user experience."
"Tellingly, many of Google's rivals engaged in many of the same design changes," Leibowitz noted.
Critics were quick to pounce.
"The Federal Trade Commission's settlement with Google fails to end its most anticompetitive practice," the California-based group Consumer Watchdog said today.
"Google clearly skews search results to favor its own products and services while portraying the results as unbiased. That undermines competition and hurts consumers," said John M. Simpson, director of the group's Privacy Project. "The FTC rolled over for Google."
Patents and ads
Under the settlement, Google agreed to meet its prior commitments to allow competitors access – on "fair, reasonable, and non-discriminatory terms" – to patents on critical standardized technologies needed to make popular devices such as smart phones, laptop and tablet computers, and gaming consoles.
Also, in a separate letter of commitment, Google has agreed to give online advertisers more flexibility to simultaneously manage ad campaigns on Google's AdWords platform and on rival ad platforms.
Google also agreed to refrain from misappropriating online content from so-called "vertical" websites that focus on specific categories such as shopping or travel for use in its own vertical offerings -- a practice referred to as "scraping." He said Google would allow local businesses and sites to opt out of being listed in Google's local and shopping searchers without being penalized in general search results.
---