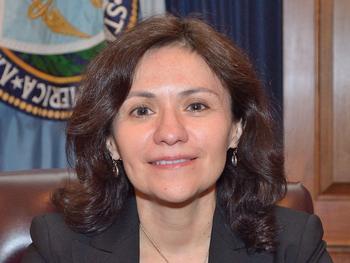 Federal Trade Commission Chairwoman Edith Ramirez announced her resignation today as the Obama Administration enters its final week.
"It has been the honor of a lifetime to lead the Federal Trade Commission and to have played a role in advancing American consumers' ability to navigate fast-paced digital markets and promoting business competition across the economy. I thank my fellow Commissioners and all of the talented FTC staff for their support and dedicated public service during my tenure."
Ramirez's resignation will be effective Feb. 10. She was named chairwoman on March 4, 2013, and has served as an FTC commissioner since April 5, 2010, following her appointment by President Obama.
"Edith Ramirez has been a leader in efforts to promote privacy protections for emerging technologies, stop unethical business practices, and inform consumers as they navigate the marketplace," said Rep Jan Schakowsky (D-Ill.), Ranking Member of the House subcommittee on consumer protection. "Under Chairwoman Ramirez, the Federal Trade Commission saved consumers billions of dollars through its enforcement actions."
Ramirez said in her announcement that she had prioritized protecting consumers and promoting competition in the technology and healthcare sectors, safeguarding consumer privacy and data security in the online world, and protecting diverse communities from deceptive and unfair practices and scams.
Enforcement actions
During her tenure, the FTC brought nearly 400 law enforcement actions covering a range of consumer protection issues and approximately 100 enforcement actions challenging anticompetitive mergers and business conduct in major sectors of the economy, including the healthcare provider, pharmaceutical, retail, and energy markets.
These actions on consumers' behalf included
a $10 billion settlement in 2016 with Volkswagen Group of America, to compensate consumers deceived by VW's "clean diesel" advertising campaign;
a $1.2 billion dollar settlement with a pharmaceutical company for delaying generic competition for a sleep disorder drug;
a $200 million dollar settlement with Herbalife related to deceptive business practices; and
reimbursements of tens of millions of dollars to consumers whose mobile phone bills were "crammed" with unauthorized charges.
Notable FTC actions included the agency's successful challenges to the mergers of Sysco and U.S. Foods, Staples and Office Depot, and several hospital mergers. The FTC also won an action against Amazon for its unauthorized charges in children's apps and a federal appeals court decision in the Wyndham Hotels case upholding the FTC's authority to bring enforcement actions for unreasonable data security practices.