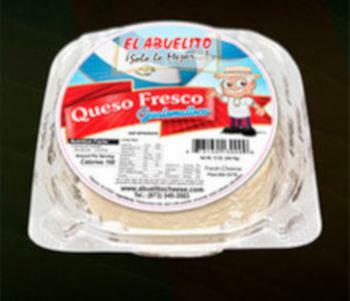 El Abuelito Cheese of Paterson, N.J., is recalling all fresh cheese products (queso fresco, soft).
The product may be contaminated with Listeria monocytogenes.
The CDC reports seven people infected with the outbreak strain of Listeria monocytogenes in four states.
The list of the recalled products, with expiration dates through March 28, 2021, may be found here.
The Grandpa (El Abuelito) Cheese brand was sold in Connecticut, New Jersey, Pennsylvania and New York; the Rio Grande products were sold in Virginia, North Carolina and Maryland; and Río Lindo was sold in North Carolina and Maryland.
The recalled products were sold in supermarkets, wholesale stores and retailers until February 16, 2021.
What to do
Customers who purchased the recalled products listed should not consume them, but return them to the place of purchase for a full refund.
Consumers with questions may contact El Abuelito at (973) 345-3503, Monday through Friday from 8 am to 5 pm (EST) and Saturday from 8 am to 12 pm (EST).