---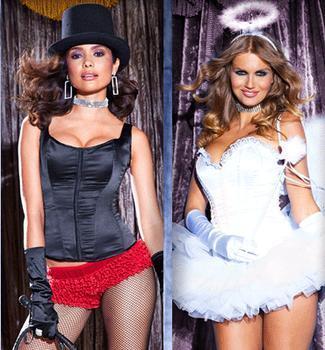 Did the Frederick's of Hollywood billing computer catch a nasty virus this month? We ask because, after going almost the whole summer and well into fall without receiving a single complaint about the company, everything changed in October.
In just the first 15 days of this month, ten* different people from all over the country wrote us with almost the exact same complaint: several months ago, they say, they ordered something from Frederick's of Hollywood and were promised free shipping. Now, they're finding unauthorized Frederick's shipping charges on their credit cards.
Our attempts to ask Frederick's about this were unsuccessful; rather than give us an email address or phone number we could use to contact the company, the best offer we got was the chance to give them our phone number, in exchange for which we received a vague promise that somebody would call us back at some indeterminate future point. We'll let you know if anything comes of that.
Meanwhile, check out this sampling of our readers told us this month, and see if you don't notice a pattern. Ally H. of Cleveland Heights, Ohio, kicked off the month when she wrote us this:
"On July 17, 2013 I received a promotional email from Frederick's of Hollywood with the subject line: 'Three words: Fierce. Wild. Vixen. Plus, free shipping on everything.' The email stated 'We pay for shipping. No minimum purchase.' At the time of purchase, I was not charged for shipping."
So then what happened? "Today, October 1, 2013 I received an email from Frederick's stating that a billing error occurred on 7/17/2013 when I placed my order and that, as a result I was not charged the $5.95 shipping cost. Thus, they will be billing the card they have on file for the $5.95 shipping cost for my 7/17/13 order. Pursuant to the promotional email I received on 7/17/13, there was no shipping cost. How Frederick's can retroactively charge me for a shipping cost that doesn't exist is beyond me. I called and spoke to a customer service representative who was unable to assist me and could not transfer me to a supervisor."
Not so cute
A week later, Bethany A. in Marshfield, Missouri, wrote us to say: "Ladies, no matter how cute you think items are from Fredericks of Hollywood, do not do business with them!"
Why not? "If you spend so much and get offered free shipping, it is not free and they could possibly charge you 6 months later."
Bethany bought some outfits in April. Everything seemed fine until: "It is now October 2013. Yesterday I received an email saying, since we didn't charge you shipping on your order back in April we will be taking $9.95 out of your account for that within the next 10 business days, sorry for the inconvenience. Seriously?"
Her attempts to resolve the issue with customer service led nowhere, either: "I talked to a lady who had no answers for me and was rude about it. She said she didn't know why it took them this long to charge me [for shipping], and refused to take the charge off. BAD BUSINESS! She claimed there was no supervisors or management to talk to and the fee was going to happen and it is non-refundable. She said this was happening to several customers from months before, and the company has decided to now go back and charge for shipping."
Hmm. Could that be why we've been getting so many recent complaints?
The next day, Berinda T. of Macon, Georgia told us this story: "I am a regular customer with Fredericks of Hollywood and made 2 purchases (1 in June and 1 in August) in which I received an email advising me of free shipping. I just received an email on 10/7/2013 which states that the company realizes that they did not charge me the shipping and handling fees of 7.95 on the June charge and 5.95 on the August charge and that it would now be applied to my credit card."
And, once again: "I contacted customer service and … their response was that the charges was non refundable and could not be refunded."
However, they did offer her a ten-dollar-off coupon for the next time she purchased $50 worth of products. She has no intention of using this coupon, though: "I requested a corporate office number and they explained there was not a corporate office to contact. I would not advise ANYONE to shop with them and this ends my shopping with them as well."
"Billing error"
Next day we heard from Maya F. in Roseville, California. "I placed other 3 months ago on fredericks.com . The company was offering free shipping on all orders … I received a confirmation number for my order with free shipping."
Guess what happened next? "After 3 months, I received an email from the company that there was a billing error, 3 months ago and they will charge shipping costs on the card … However, at the time I placed the order, their website clearly stated: Free shipping on any order, no minimum required! I contacted the customer service at Fredericks of Hollywood and they said there is nothing else they can do…."
Then we heard from Amanda K. of Hanford, Calif., on Oct. 12. Her complaint is unique: instead of being charged after-the-fact for allegedly free shipping, she says she's being double-billed for shipping costs she already paid.
Amanda told us she paid a shipping fee when she order some bras back in April. Then, six months later, "I get an email saying they were going to charge my credit card $9.95, for shipping that was not charged at the time of the order. Fortunately, I keep all of my online shopping receipts. I looked back, and I did pay for the shipping at the time of purchase. So, I am being charged twice for shipping … I warn everyone that also got this email to double check their order. This feels like a scam to me."
Two days later we heard from Timothy H, in Silverdale, Wash., who said: "I have received the same email as many people below. My wife made a purchase of 134.74 before tax and shipping. Of course, Frederick's offers free shipping [for orders] of $50 or more. Now they are wanting to charge me $17.95."
And finally, on Oct. 15, we heard from three different Frederick's customers, all complaining of brand-new charges for items shipped long ago. Edith G. of Carson, Calif. said: "I placed an order on 5/5/2013, and apparently was not charged $7.95 for shipping. I received an email today, which is 10/15/2013, 5 months and 10 days after the purchase. FOH is stating that I should have paid for the shipping and is now going to charge my credit card the $7.95 fee. … Then to top it off they sent me a $10 off coupon for my next order of $50 or more. Why don't you keep the $10 and just waive that charge?"
Diane C. of Roseville, Calif., called her experience a "shipping cost scam." Many months ago she received a Frederick's gift card as a present, and ordered some items online. You know what happened next: "They were having a special for free shipping on your order back in April, so I took advantage of the deal and placed an order. I used my gift-card for payment and even had a remainder balance left over! 6 months later I receive an e-mail from them stating, "Thank you for being a valued customer. It has come to our attention that at the time you placed your order a billing error occurred. The total shipping and handling fee that was indicated on the order confirmation you received after checkout was not charged at the time of shipment. As a result, the remaining shipping and handling fee will now be charged to the credit card you provided at the time of the purchase." They're charging me $9.95 for shipping when I had used a 'free shipping' promotion code back when I placed the order…"
And that's not all. "They also state in the e-mail that, 'We will be charging your credit card within the next 10 business days for the shipping and handling fee shown above, as well as any applicable sales tax.' Why are they charging me for tax again?!?"
And Curtis H. of Charlotte, North Carolina, told a shorter version of the same basic story: "I too experienced the same shipping scam and I do not care that it was only $15.95. This is deceptive and fraudulent to charge customers shipping 6 months after an order when it was supposed to be free shipping over a certain purchase amount. Please, people, pursue these crooks as far as you can so that they do not keep repeating this scam on other consumers."
If you've made any Frederick's of Hollywood mail-order purchases this year, the best advice we can give you is to have your credit card company put a hold on any future Frederick's charges, as Diane C intends to do: "I'll be contacting their customer service to try and get this straightened out but, reading these other reviews, I can't imagine I'll get too far. I can always contact my bank and try to put a hold on any future Fredrick's charges. Guess I'll be taking my business elsewhere."
---
(*Did you notice where we mentioned "ten" people with complaints? When we first started writing this article, it said "eight." We had to revise the article, twice, because two new complaints came in while we wrote this.)
---