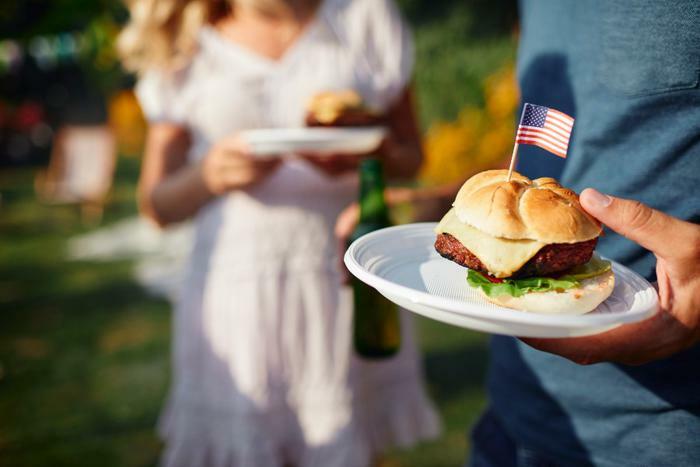 This Fourth of July weekend, consumers are expected to spend $7.5 billion on food, drinks, and other celebrations of U.S. independence. That comes out to an average of about $80 per person, according to the National Retail Federation. 
The NRF's annual Independence Day spending survey drew responses from 7,893 consumers. The organization said it found that 84% of consumers plan to celebrate Independence Day this year -- an increase from 2020's figure of 76%. 
Sixty-one percent of those surveyed said they plan to put money towards hosting or attending a cookout, barbeque, or picnic. Around 33 percent of consumers said they plan to take in a fireworks show or go to a community celebration of some sort. 
Gas supplies running low
Twelve percent of respondents to the NRF's poll said they plan to travel or leave for a vacation this weekend. Separately, AAA forecasted that 43.6 million Americans will travel by car this Fourth of July weekend -- the most so far this year. Unfortunately, gas demand and prices are both high. 
The national average price for a gallon of regular is currently sitting at $3.10, the highest since October 2014, according to GasBuddy. Industry experts say gas stations are running short on supplies because of a shortage of tank truck drivers and rising gas demand. 
"It used to be an afterthought for station owners to schedule truck deliveries. Now it's job No. 1," Tom Kloza, global head of energy analysis for the Oil Price Information Service, which tracks prices for AAA, told CNN Business. "What I'm worried about for July is the increased demand works out to about 2,500 to 3,000 more deliveries needed every day. There just aren't the drivers to do that."
Experts are concerned that travelers may see a station without gas here and there and take it as a sign that they should top off their tanks. However, doing so will only make a shortage worse, said Jeff Lenard, vice president of strategic industry initiatives for the National Association of Convenience Stores. 
As was the case when there was a gas shortage caused by the Colonial Pipeline attack, Lenard says consumers should refrain from topping off their tank more than necessary. 
"We have the same advice we had then, this is not the time to fill up every car you have and every container you have," he said. "We hate to see shortages and outages caused by drivers panicking and topping off their tanks."