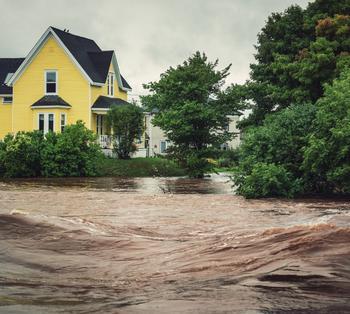 Here's something new to add to your list of worries: hidden flood risk. A new study brings to light the possibility that nearly double the properties previously thought to be at risk from flooding are actually predisposed to being vulnerable.
Up to now, FEMA -- the Federal Emergency Management Agency -- has been the go-to resource for identifying flood hazards and assessing flood risks. Insurance agencies have long used FEMA's calculations to establish whether homeowners need flood insurance, and lenders have followed suit in determining how much risk they're taking on. 
But, if the new numbers shake out as accurate, that puts everyone in the mortgage food chain -- homeowner, builder, banker, insurer -- at much greater risk.
Fourteen million additional properties at risk
The new data comes from First Street Foundation, whose mission, in a nutshell, is "empowering Americans to protect their most valuable assets -- their homes -- from flooding."
The organization says that it projects more homes are at risk because it takes into account many things FEMA doesn't. At the top of FEMA's missing-in-action reference points is the risk for individual properties. Factors like sea-levels, rainfall, and flooding along small streams and creeks are also disregarded.
The discrepancy, if accurate, is stunning. First Street contends that FEMA classifies some 8.7 million properties as having substantial risk. However, First Street's flood model shows that 70 percent more homes are at risk and 14.6 million properties have the same level of risk. 
The states that show the greatest difference between the First Street Foundation Flood Model estimates and FEMA's designation include Washington D.C. (438 percent), Utah (419 percent), Wyoming (325 percent), Montana (311 percent), and Idaho (290 percent). As far as metropolitan areas are concerned, Los Angeles, Chicago, Houston, New York City, and Cape Coral, Fla., show the greatest number of properties at substantial risk.
Boiling that down to the homeowner level, that means nearly 6 million households and property owners have either underestimated or are unsuspecting of their current risk. 
How much at risk are you?
First Street's data on 142 million homes and properties across the U.S. is available to everyone for free. It assigns a 1-10 "Flood Factor" to every street address in the contiguous U.S. based on its cumulative risk of flooding over the length of a 30-year mortgage. 
Interested consumers can look up their property's Flood Factor and learn more about its past, present, and future flood risk at FloodFactor.com.