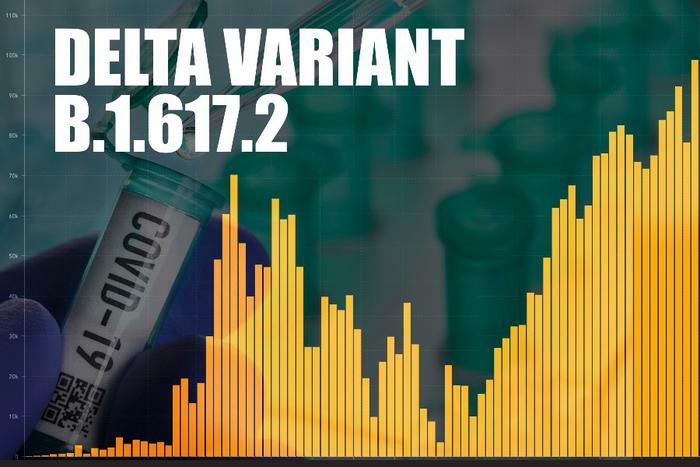 Dr. Scott Gottlieb believes the number of cases of the highly contagious Delta variant of COVID-19 are higher than believed due to several factors. 
On CNBC's "Squawk Box," the former FDA chief said he believes the U.S. is undercounting the number of infections because the "denominator" is still unknown and vaccinated people who are infected are likely to have mild symptoms and not seek testing.
"I think we're vastly underestimating the level of delta spread right now because I think people who are vaccinated, who might develop some mild symptoms or might develop a breakthrough case, by and large are not going out and getting tested," he said. "If you've been vaccinated and you develop a mild cold right now, you don't think you have Covid."
Nearly half of Americans are fully vaccinated, but the Delta variant has been driving a rise in cases. Over the past seven days, the average of new daily infections has gone up 67% from a week ago. The CDC now says the Delta variant is the most common coronavirus strain in the U.S. 
Spreading through the population
Gottlieb, who now serves on the board of vaccine maker Pfizer, said it's obvious that the Delta variant is more transmissible than the original COVID-19 strain. He added that this has serious implications because roughly half of the population is still unvaccinated. 
"There's no clear evidence that this is more pathogenic, that it's causing more serious infections. It's clearly more virulent, it's clearly far more contagious" than earlier virus strains, he said. "People who are worried about Covid have largely been vaccinated. I realize not everyone has been able to get vaccinated, but most people have been vaccinated who are worried about this infection."
"People who remain unvaccinated aren't worried about the infection and don't want to be wearing masks either. Now, the bottom line, that means this is just going to spread through the population," he added.