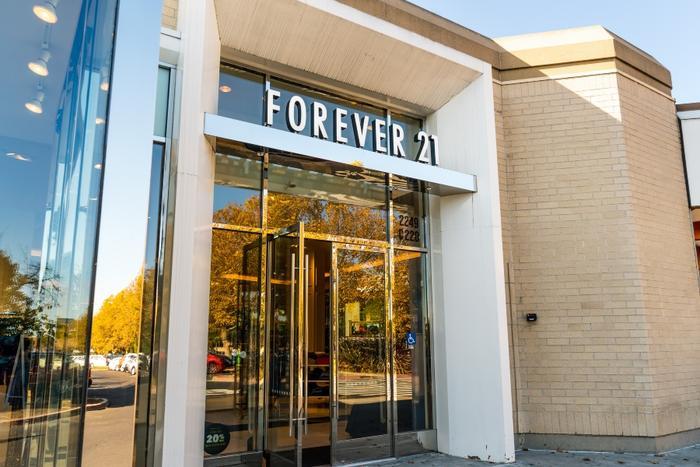 Apparel retailer Forever 21, which filed for bankruptcy protection last year, has agreed to sell its retail business to a group of mall operators.
In a court filing, the company said the group -- which is led by Brookfield Property Partners, Authentic Brands, and Simon Property Group -- has agreed to pay $81 million for the assets. Other interested parties have until the end of this week to enter a competing bid.
If there is another offer, the bankruptcy court will order an auction to be held February 10. Forever 21 plans to complete the transaction by the following day.
The retailer declared bankruptcy at the end of September. At that time, company officials expressed were optimistic that they could turn things around. They said bankruptcy would allow the company to restructure and focus on the "profitable core part of its operations." 
Closed some stores
At the time it declared bankruptcy, Forever 21 had 815 stores in 57 counties. Since then, it has closed many of its international stores, as well as nearly 180 U.S. locations.
"The decisions as to which domestic stores will be closing are ongoing, pending the outcome of continued conversations with landlords," the retailer said in a September statement.
Like many retailers lately, Forever 21 has faced stiff competition from major online channels. It has also faced challenges in marketing to the latest generation of younger shoppers, who often frequent thrift stores looking for high-quality clothing at bargain prices.
Although Forever 21 earned a fairly high rating from ConsumerAffairs readers, some recent reviewers have reported frustrations in dealing with the company, especially when it came to getting orders delivered on time. 
"Whether the shipping is free or you pay for it, the shipping time is horrible," Alexis of Saylorsburg, Pa., wrote in a December 22 ConsumerAffairs post.
But unlike some other retailers -- such as Toys "R" Us -- Forever 21 is unlikely to disappear from the retail landscape. The store is considered a major draw for many shopping malls, which have struggled of late to draw customers. CNBC reports that that's a big reason mall operators are interested in keeping the store running.
"The fear for many of America's mall owners has been that a liquidation of Forever 21 would leave them with too much vacant space," CNBC notes. "Simon and Brookfield are two of Forever 21′s biggest landlords."