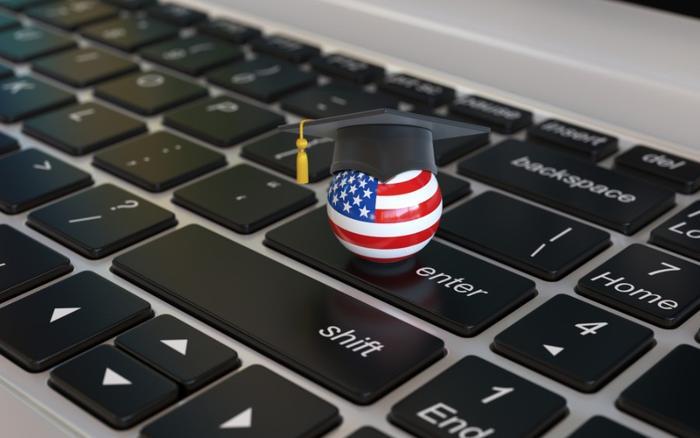 Under a new set of guidance issued by Immigration and Customs Enforcement (ICE), international students studying at universities in the United States may have to leave the country or face the possibility of deportation if their school switches to online-only learning. 
In a news release on Monday, ICE said the Student and Exchange Visitor Program (SEVP) has announced modifications to temporary exemptions for nonimmigrant students taking online classes due to the coronavirus pandemic. The changes apply to the upcoming fall 2020 semester. 
"Nonimmigrant F-1 and M-1 students attending schools operating entirely online may not take a full online course load and remain in the United States," ICE said. "The U.S. Department of State will not issue visas to students enrolled in schools and/or programs that are fully online for the fall semester nor will U.S. Customs and Border Protection permit these students to enter the United States." 
The guidance states that students currently in the U.S. seeking a degree under online-only programs must "depart the country or take other measures, such as transferring to a school with in-person instruction to remain in lawful status." The changes include an exemption for universities adopting a hybrid model, such as a mix of online and in-person classes.
Failure to comply with the new rule could lead to "immigration consequences," which ICE said included the risk of deportation. 
A number of colleges and universities in the U.S. have opted to transition to online-learning in the interest of preventing COVID-19 transmission among students and instructors. The latest modification threatens to impact thousands of international students who come to the U.S. to pursue a degree or participate in non-academic or vocational studies.
Creates uncertainty for many students
In an interview with CNN, Theresa Cardinal Brown, director of immigration and cross-border policy at the Bipartisan Policy Center, said the rule change could have particularly confusing implications for students whose countries have travel restrictions in place. 
"These are not some fly-by-night universities, these aren't scams, these are legit universities who would normally have in-person curricula but for coronavirus," she said. "The bigger issue is some of these countries have travel restrictions on and they can't go home, so what do they do then? It's a conundrum for a lot of students."
In a statement on Monday, Harvard University President Larry Bacow said officials at the school are "deeply concerned" that the guidance issued by ICE "imposes a blunt, one-size-fits-all approach to a complex problem giving international students, particularly those in online programs, few options beyond leaving the country or transferring schools."
He added that the guidance "undermines the thoughtful approach taken on behalf of students by so many institutions, including Harvard, to plan for continuing academic programs while balancing the health and safety challenges of the global pandemic."