---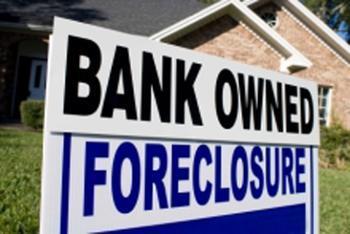 As the housing market has slowly recovered, economists have been waiting for the other shoe to drop. The other shoe being thousands of pent-up foreclosures, put off while major lenders and the states and federal governments came to terms on a settlement.
But the other shoe was nowhere to be seen in November. RealtyTrac, a foreclosure marketing company, reports there were 180,817 foreclosure filings last month -- default notices, scheduled auctions and bank repossessions. That's a three percent decline from October and is down 19 percent from November 2011 -- marking the 26th consecutive month with an annual decrease in foreclosure activity. The report also shows one in every 728 U.S. housing units with a foreclosure filing during the month.
"The drop in overall foreclosure activity in November was caused largely by a 71-month low in foreclosure starts for the month, more evidence that we are past the worst of the foreclosure problem brought about by the housing bubble bursting six years ago," said Daren Blomquist, vice president at RealtyTrac.
Continuing to hold back the market
But Blomquist believes foreclosures will continue to hold back the U.S. housing market as lenders finally seize properties that started the process a year or two ago -- and much longer in some cases.
"We're likely not completely out of the woods when it comes to foreclosure starts, either, as lenders are still adjusting to new foreclosure ground rules set forth in the National Mortgage Settlement along with various state laws and court rulings," he said.
Foreclosures, and to a lesser degree short-sales, hurt the housing market because they artificially lower the value of the house and those that surround it. Banks want to unload the property for whatever they can get for it, meaning buyers can get these properties for thousands less than the market price.
The more foreclosures on the market, the harder it is for the overall price of real estate to rise. The fact that foreclosure activity has remained subdued is good news for sellers and the real estate market as a whole.
Repossessions on the rise
The RealtyTrac report shows foreclosure starts were down 13 percent from the previous month and down 28 percent from a year ago to the lowest level since December 2006 -- a 71-month low. Bank repossessions (REO), however, increased 11 percent from the previous month and were up five percent from November 2011, a nine-month high and the first year-over-year increase in REOs since October 2010.
Just as earlier increases in foreclosures were centered in a handful of states, several states were also responsible for the drop last month. In November thee were big year-over-year drops in California, Georgia, Michigan, Texas and Arizona.
Foreclosure activity increased from a year ago in 23 states and the District of Columbia. Nine states posted 12-month highs in foreclosure activity in November, including Florida, New Jersey, New York, Ohio and South Carolina.
---