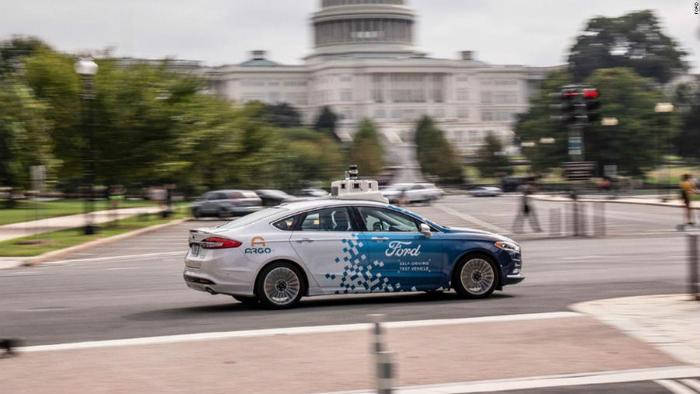 Ford is launching its test of self-driving vehicles on the streets of the nation's capital.
The automaker has announced a joint venture with the District of Columbia city government to begin autonomous vehicle testing starting early next year. The company is currently conducting tests in parts of Detroit, Pittsburgh, and Miami.
"Just like guiding a bill through Congress, establishing a self-driving vehicle business requires a lot of coordination," Ford said in a blog post announcing the move. "Not only do self-driving vehicles need to operate safely and reliably, but they also need to work in concert with the businesses, people and cities they serve. On top of all this, they must operate within an ecosystem that supports their operation and maintenance."
The rush to put driverless cars on American streets has slowed in recent months following a fatal accident between an autonomous Uber and a pedestrian in Arizona in March. An investigation determined that the vehicle's sensors saw the pedestrian in the road but failed to take action to avoid hitting her.
Filling gaps in public transportation
Ford says its partnership with the DC government should lead to job creation since it will provide an additional means for people to move around. The company said it believes putting self-driving cars on the street will fill gaps in access to public transportation, as well as provide new ways to deliver food and other products.
Ford said the autonomous vehicle tests will be conducted in all eight of Washington's wards, working toward the launch of a commercial transportation service by 2021.
"We believe that ensuring widespread access to mobility services enabled by self-driving vehicles is vital, a sentiment that was underscored in a report by Securing America's Future Energy, which found that autonomous technology could improve people's access to jobs as well as retail markets," the automaker said.
Mapping already underway
Ford's autonomous technology is powered by Argo AI, which is already working to map DC streets in the first step toward testing vehicles in fully autonomous mode. That process is expected to take up to a year.
Training is also beginning for test drivers who Ford says will be responsible for safely operating and monitoring the test vehicles deployed on public roads and on closed courses throughout the development process.
Ford envisions a diverse market for its commercial business, doing everything from taking commuters to and from work, helping tourists get around town, and making deliveries.