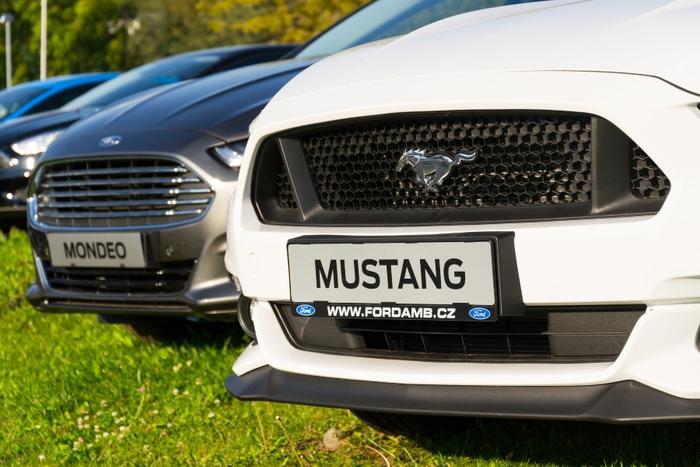 Will Ford's new Mustang be the next to take on category-leading Tesla in the e-car derby? It certainly looks like it.
On Monday, Ford Motor Company announced that it's rolling out an all-electric Mustang Mach-E SUV as the brand family's latest edition -- the first time the automaker has expanded its Mustang lineup in 55 years.
Ford, Audi, Volkswagen, Honda, Chevrolet, and more than 40 others automakers are already in the e-car niche, but electric cars have a long way to go before reaching the same level of consumer acceptance fuel-powered vehicles have.
Nonetheless, there's solid growth in the electric car field that no automaker can scoff at. By InsideEVs estimation, 2019's rate-of-sale will more than double the number of electric vehicles sold in 2018. 
Tesla is, by far, the lead dog in this race. Last year, its award-winning -- but oops-prone -- Model 3 sold approximately 140,000 units. That $5 billion of potential sales no doubt caught the eye of Ford's bean counters.
What makes the e-Mustang different than the rest?
Ford's banking on four key differentiators to move the new Mustang to the front of the pack:
Connected vehicle technology. Ford is relying on the cloud for its "all-new infotainment system," which supposedly will allow the automaker to update programming and functionality on the fly.

Muscle. In Ford's shameless self-promoting verbiage, the "Mustang Mach-E GT Performance Edition brings the thrills Mustang is famous for, targeting 0-60 mph in the mid-3-second range and an estimated 342 kW (459 horsepower) and 830 Nm (612 lb.-ft.) of torque." In other words, blistering fast.

More charging stations. Thanks to Ford's dealership tentacles, it says it can provide more than 12,500 public charging stations to the new Mustang's owners. To help the owners pinpoint where those charging stations are, the car's connected navigation system is designed to constantly run in the background, identifying charging locations and nudging drivers when and where a good time to recharge is.

Range. Ford says it's "targeting" an EPA-estimated range of at least 300 miles -- a ballpark driving distance of, say, Houston to New Orleans, St. Louis to Chicago, or Los Angeles to San Jose. Best intentions aside, the company says final EPA-estimated ratings will not be available until the 2020 calendar year.
"The Mustang Mach-E wholeheartedly rejects the notion that electric vehicles are only good at reducing gas consumption," said Hau Thai-Tang, Ford's chief product development and purchasing officer, in a news release. 
"People want a car that's thrilling to drive, that looks gorgeous and that can easily adapt to their lifestyle – and the Mustang Mach-E delivers all of this in unmatched style."
Did someone say SUV?
If you're thinking that this new Mustang is a sleek throwback to the model's glory days as a fastback, it's not. This is an SUV.
And that "SUV" reference point might be a buzzkill for Mustang enthusiasts. Ford's doing its best jig to try and get around that killjoy by saying its new e-car entrant has some original Mustang-like features built in.
"Since there's no engine, electric vehicles don't need a long hood, but the Mustang Mach-E has one," observed CNN's Peter Valdes-Dapena. "That's a classic performance design cue, but it also helps maintain the Mustang family resemblance. It also has a black rooftop, no matter the paint color on the rest of the car, creating the illusion of a low sloping roofline. The taillights spread out horizontally to increase the perception of width and make the vehicle seem more planted and stable like a sports car."
How to get your own
Ford's new e-Mustang will be available to consumers come 2020, but interested consumers can plop down a $500 deposit and reserve their own, now. 
As with similar reservation processes, this one also comes with a couple of Ford-imposed caveats: 1) The $500 deposit only allows configuration of a vehicle; 2) the reservation process is not an order or purchase of a vehicle, and a deposit does not guarantee delivery of a vehicle.