---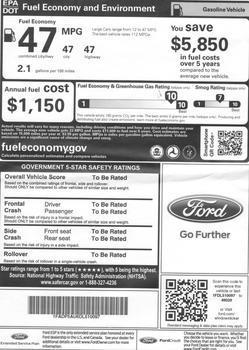 Stung by consumer complaints about mileage that didn't come close to its claims, Ford is rolling out a series of software changes to its 2013 Ford C-Max, Fusion and Lincoln MKZ hybrids.
"I thought my 2013 C-MAX would be a Prius Killer? NOT! As a returning Ford buyer I feel deceived," said Ronald of South Portland, Maine, in a ConsumerAffairs story published in March. "Based on the advertised EPA estimates, I would have been ok with low 40's but 28-33 mpg is not even in the ballpark."
The company said letters will be going out by the end of the month to about 77,000 owners asking them to make an appointment with their dealer for a half-day of work updating the software.
Ford and the Environmental Protection Agency (EPA) have claimed the cars can achieve 47 miles per gallon in combined highway and city driving but consumers say they haven't even come close to that lofty figure.
It will be better
Ford isn't saying what the mileage should be after the software upgrade but promises it will be better. Among the changes, which don't apply to plug-in hybrids, are these:
The hybrids will automatically remain in electric-only mode to a top speed of 85 m.p.h., up from 62 m.p.h. now.
Active grille shutters will close in cold weather or when the air conditioner is running to warm or cool the cabin faster, allowing the batteries to kick in sooner to run in electric mode.
Fan speed will be reduced, requiring less fuel to operate.
The engine will warm up 50% faster, which allows stop-start technology to work faster, saving fuel when the vehicle turns itself off when idled.
"Just as individual mileage can vary based on driving styles and environmental conditions, we expect fuel economy improvements will differ from customer to customer depending on individual driving habits," said Raj Nair, group vice president, Global Product Development. "Customers should see the most improvement at highway speeds, during air conditioner use and operation in colder climates."
Nair said the upgrade was not a direct result of the class-action lawsuits and consumer complaints.
"We are committed to continuously improving the fuel economy of our vehicles," said Nair. "We believe these actions will provide our customers enhanced on-road fuel economy satisfaction."
Sales surging
Despite the complaints about mileage, the Ford hybrids have been selling well.
Ford reported electrified vehicle sales of 46,197 units through June – up more than 400 percent from the same period a year ago. Ford said the C-MAX is drawing new buyers in coastal markets and in Florida and Texas, as Toyota Prius U.S. sales have declined 5 percent.
Meanwhile, the Ford brand had the largest retail share increase in California of any brand during the first five months of 2013, based on the latest Polk retail registration data.
Last month, 64 percent of C-MAX Hybrid buyers came from non-Ford brands. In fact, the vehicle most traded in for a Ford C-MAX is Toyota Prius, Ford said.
---