---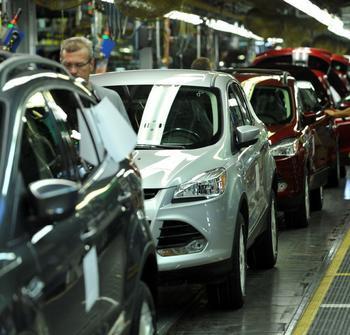 Ford has paid a $17.35 million fine to settle claims that it took too long to recall 2001 through 2004 Escape SUVs with accelerator pedals that could stick to the floor.
The fine ties that paid by Toyota in December 2012 to resolve claims that it dragged its feet in recalling models plagued by accelerator pedals that could get stuck under carpets.
The Wall Street Journal and Automotive News reported details of the settlement today. The settlement document was dated June 28 but neither the National Highway Traffic Safety Administration nor Ford made any public announcement at the time.
NHTSA has been criticized by safety advocates for holding secret talks with Chrysler executives to broker a deal over allegations that certain Jeep SUVs are fire-prone. In that case, former Transportion Secretary Ray LaHood met with NHTSA and Chrysler executives at O'Hare International Airport to work out a compromise that lets Chrysler install trailer-hitch attachments on some of the allegedly fire-prone Jeeps.
The trailer hitches supposedly will reduce the risk of a rear-end crash rupturing the gas tank and starting a fire. Chrysler initially refused NHTSA's request that it recall the Jeeps.
There was no immediate explanation for why the Ford deal was not made public by the agency, which is never shy about trumpeting its supposed accomplishments, like its current campaign to prevent heatstroke.
Inadequate clearance
Ford issued the recall of about 423,000 Escapes last July, saying that "inadequate clearance between the engine cover and the speed control cable connector could result in a stuck throttle when the accelerator pedal is fully or almost-fully depressed." Earlier in July 2012, On July 16, Ford issued a recall of thousands of 2013 models, saying the positioning of carpet padding could lead to the risk of a crash.
The Escape's sibling vehicle, the Mazda Tribute, was also recalled because of the same problem.
Regulators felt that the Escape recall "may have been untimely," and thus could have justified an enforcement action, according to a settlement document with the National Highway Traffic Safety Administration.
Ford agreed to the settlement but did not admit fault.
"We take the safety of our customers seriously and continuously evaluate our processes for improvements. While we are confident in our current processes for quickly identifying and addressing potential vehicle issues, Ford agreed to this settlement to avoid a lengthy dispute with the government," a Ford spokeswoman said.
---