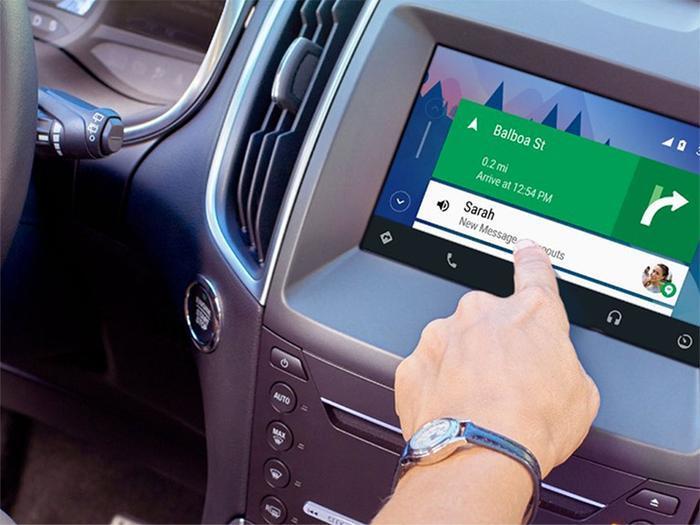 Ford is making its first "over-the-air" software update, adding Android Auto and Apple CarPlay to cars equipped with Sync 3, its interactive touch-screen system. Consumers can also use a USB stick or visit a dealer to make the upgrade.
Customers can update their software by visiting owner.ford.com to download and install with a USB drive, or by visiting a dealership. Customers with Wi-Fi-enabled vehicles and a Wi-Fi network can set up their vehicle to receive the update automatically.
Tesla pioneered the use of over-the-air updates and recalls, which are expected to become more common as cars increasingly become smartphones on wheels. Other automakers have been slow to adopt the technology, which is commonly used for smartphones and other computerized products.
Security concerns and dealer resistance have contributed to the foot-dragging. Dealers, in particular, have expressed concerns that over-the-air updates will cut into their service revenue.
Android & Apple
Compatible with Android devices 5.0 and higher, Android Auto brings Google Maps, Google Play Music, phone, messaging and third party apps into the car, projected on the car's built-in display and available via voice controls.
Compatible with iPhone 5 and later models running iOS 7.1 or higher, Apple CarPlay gives iPhone users a way to make phone calls, use voice-guided navigation, listen to music, and send and receive messages. Users can control Apple CarPlay through the in-vehicle display or via Siri voice control. Apple CarPlay support requires a USB hub upgrade available through Ford dealers.
SYNC 3 currently supports Android Auto and Apple CarPlay on all model-year 2017 Ford cars including the Fiesta, Focus, Fusion and Mustang, SUVs including the Escape, Explorer and Expedition, F-Series trucks and Ford's electrified vehicles.
"Our SYNC 3 software platform was designed to be easy to update so we can get our customers the latest and greatest features, functionally and security enhancements," said Don Butler, executive director, Ford Connected Vehicle and Services. "With over-the-air updates, we can deliver new features to customers in the background while they continue using their vehicles."