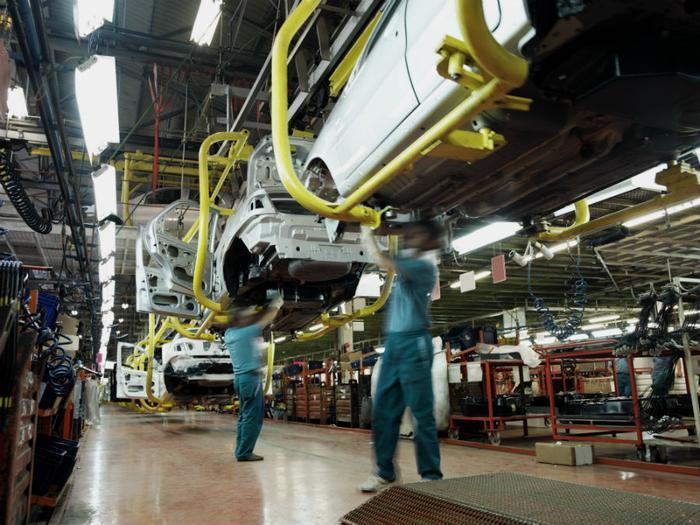 General Motors, Ford, and Fiat Chrysler have decided to gradually resume operations at their respective U.S. factories, with additional measures to keep workers safe during the COVID-19 pandemic. 
To ensure sufficient social distancing, clear plastic dividers will be set up between seats in dining areas and employee workstations. Employees will be required to stagger their arrival and departure times to reduce contact with others during shift changes and must work at least six feet apart whenever possible. 
Workers will wear face masks and clear plastic face shields or goggles when it's necessary to work near another person. Ford CEO Jim Hackett said that his company is testing watches that warn the wearer when they are too close to another worker. 
"We work really hard at imagining a world with Covid-19 in an assembly plant," Hackett told CNN. "So they have lots of consideration, of course, for social distancing. We used to have two people, for example, that would be inside the vehicle as it's going down the assembly line. We stopped that."
Frequent cleaning and other precautions
The automakers said they will also be stepping up their cleaning practices. All three companies will thoroughly and frequently clean their facilities and allow extra time between shifts for cleaning.  
Before heading home, employees must fill out a questionnaire that will help the company identify a person who may have symptoms or have been exposed to someone who is or has been ill. Temperature checks will be administered both upon entering and exiting the plants, and workers who have a high temperature or other symptoms of COVID-19 will be sent to local clinics for testing. 
The reopening follows nearly two months of plant closures. With states now beginning to ease stay-at-home restrictions and reopen businesses, executives in the auto industry say restarting auto facilities will help kickstart the economy.
"The auto industry is America's economic engine," Ford's chief operating officer, Jim Farley, said during a recent conference call on the company's reopening plans. "Restarting the entire auto ecosystem is how we restart the economy."