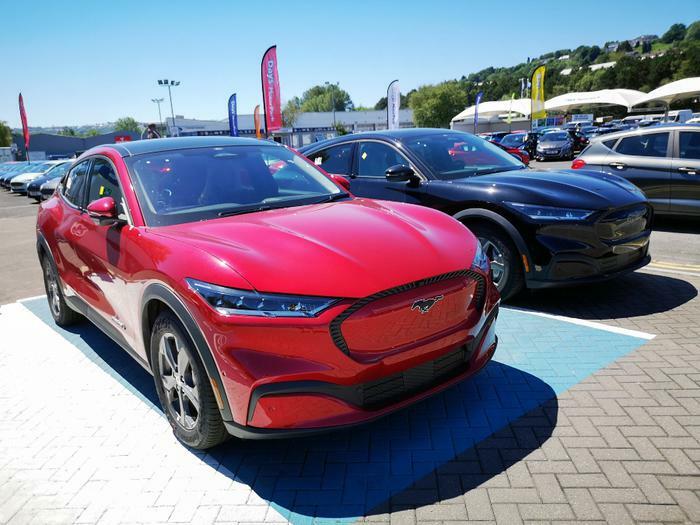 How consumers buy electric vehicles could be in for a big-time evolution if Ford has its wish. In a speech made Thursday at an IBM conference, CEO Jim Farley said his company's electric vehicles may shift completely away from a showroom and move solely online – and at haggle-free, fixed prices.
Farley sees Ford moving away from showroom-laden inventories where consumers can browse for vehicles and kick the tires. The only purpose a dealership would serve in his future vision is being the pickup point for people who bought a vehicle online and as a place to go for repairs.
The world may be watching gas prices, but EVs are already showing up in Ford's progress reports. In May, the automaker said its battery electric vehicle sales totaled 6,254 for the month, up 222% over last year and growing almost 4 times faster than the overall U.S. electric vehicle segment. The Mustang Mach-E was the hottest seller, with sales up 166% percent over last May. 
Separating EVs from gas-powered
Earlier this year, Ford announced plans to spin electric vehicle production into its own auto division so that it could focus on electric vehicle growth while maintaining strength with its gas-powered vehicles. 
One of Ford's emphasis points in the EV market is the battery that drives its cars and trucks. It recently announced plans to build a massive battery factory in rural Kentucky. If you count patents as an indicator of progress, Ford and Toyota were last seen leading all of their automaking peers. An example of that is a patent that Ford filed for a removable, range-extending generator that sits in the bed of a pickup, sort of like a toolbox would.
FordAuthority says the proposed product has everything a vehicle needs – an engine, fuel tank, exhaust system, and electronics – all in one package. It also has a unique feature that would allow a vehicle to be moved autonomously by using a "Following Mode."