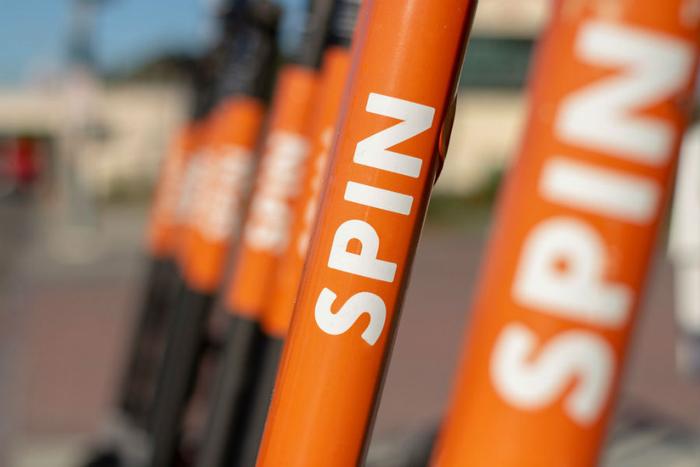 Ford announced Thursday that it purchased Spin, a San Francisco-based scooter-sharing startup, as part of a larger strategy to expand its last mile transportation options and tap into the growing "micro-mobility" business.
The acquisition was initially reported to be worth $40 million, but multiple sources told Axios more recently that the deal is worth close to $100 million.
Spin rents its "dockless" scooters for a $1 flat rate in addition to charging 15 cents per minute, the same as its competitors Bird and Lime. The startup is currently permitted to operate in nine cities and on five college campuses across the U.S. It aims to be in 100 markets over the next 18 months.
Consumer desire
Spin plans to launch in the following cities by the end of 2018: Washington, D.C.; Austin, Texas; Charlotte, North Carolina; Durham, North Carolina, as well as nearby Duke University; and Towson University in Maryland. The scooters will be distributed in Detroit on Thursday.
"Living in California, I've seen firsthand the electric scooter trend unfold and when I finally took a spin to try them out, I understood why they're so popular," Sunny Madra, vice president, Ford X, told the Detroit Free Press.
"We are excited to work with the Spin team. The fast-paced, often experimental mobility sector requires businesses to keep up with agile and adaptable customers — and that's what we intend to do."
Madra noted that data from transportation research firm Populus showed that half of all trips in the U.S. are three miles or less.
"Some of the leading companies in this space were getting upwards of 10 million rides in less than a year," Madra told CNBC. "And if you compare that to the most disruptive transportation company in the last 10 years, being Uber, it took them three years to get to get the same level of usage. So it became obvious there was consumer desire in this space."
News of Ford's acquisition follows General Motors' announcement last week that it will sell electric bikes next year. Daimler said recently that it will launch a scooter-sharing pilot in a Southern European city this year with plans to expand into Germany in 2019. Last week, Tesla CEO Elon Musk said his company is considering making an electric bike.