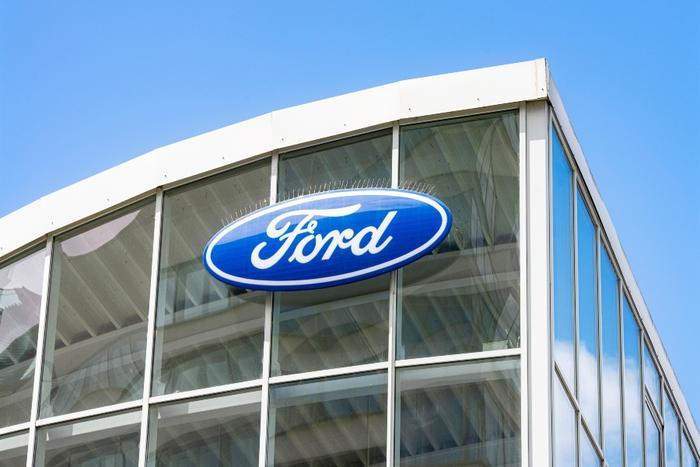 Ford Motor on Thursday unveiled its new electric transit van, which it says was designed specifically for its commercial and work customers. 
The van, called the "E-Transit," is expected to debut in late 2021. Its creation coincides with an increase in the number of businesses that have announced plans to phase out gasoline or diesel-powered vehicles. 
Ford executives said the automaker has seen a "lot of demand" for all-electric commercial vehicles. The company is planning to invest $11.5 billion in electric vehicles over the next three years. 
"Our commercial business in general is absolutely key to the company," Ted Cannis, Ford North America general manager of commercial business, told CNBC. "We were targeting customers that have to do real work."
Estimated range of 126 miles
Ford's new electric van is set to claim a spot in a new fleet of all-electric work vans used by companies like Amazon and UPS for deliveries, maintenance, and other services. The smallest version of the vehicle will have a range of 126 miles.
While that estimated range is lower than current gas-powered models, Ted Cannis, Ford North America general manager of commercial business, told CNBC that many commercial van owners only average 74 miles per day. 
"They're not driving all the time. They tend to have many fixed and local routes," Cannis said. "They're stopping at customers during the day."
In addition to announcing the forthcoming "E-Transit," the automaker said Tuesday that it will be ramping up production of its all-electric F-150 pickup by 50 percent. Ford said it's seen "strong early interest" in the model. The new truck will arrive in U.S. dealerships by mid-2022 at the earliest. 
"Our electric vehicle business is a dynamic source of growth. We're setting ourselves up for profitable business now and in the future," said John Savona, vice president, North American manufacturing.