---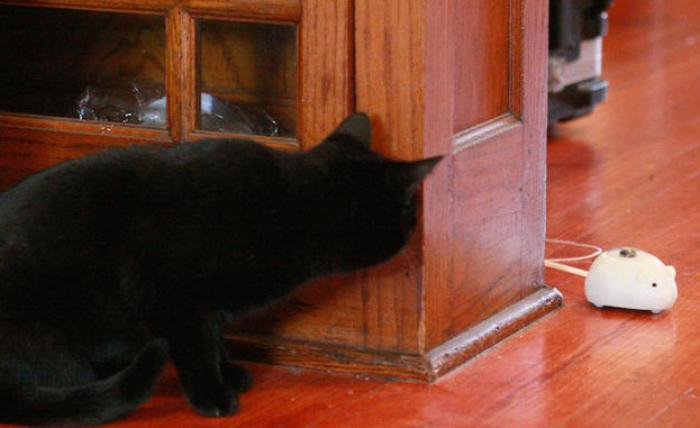 I know it's a little early to be pushing Christmas presents, but the retail stores had Christmas items up before Halloween and Black Friday is almost passé.
Anyway, I have a gift for your favorite feline. It could be one that goes into Saks Fifth Avenue's Christmas catalog simply because of the price. What is it already you are asking?
It's simply a mouse. Now, mice are a dime a dozen -- actually most are free, but this mouse is a robot and it has the option of two different tails. You won't find that on your everyday mouse.
It's called the Mousr from Petronics on Kickstarter and it is a sensor-laden bot built for high-tech cat entertainment. It's a little bot that looks kinda like a mouse it's actually a little rounder than your average street mouse but it can detect your cat's approach from any direction and it reacts just like a real mouse by scurrying away from the cat. It also has sound with it. There is a hidden speaker just to make the chase that much more fun.
The Petronics team behind Mousr is working on developing a full-on AI system for the gadget so it can learn and adapt to your cat's style of play.
What would a robot be if it didn't have a phone -- a bluetooth connection no less? Don't be silly, it won't be calling you or your friends. The phone is one way you can control it by using the app. The other option is you can set it on the floor and let it roam around.
Just like dog people, cat people are happy when they buy their beloved pet a little toy to play with. The only issue is that this toy is a $140 pledge price right now, and that's a lot of catnip running around your apartment. But you would do anything for your beloved, right? Details are on Kickstarter.
Mousr has raised over $41,000 in pledges toward a $100,000 goal so far. That gray field mouse is looking pretty good about now.
---