---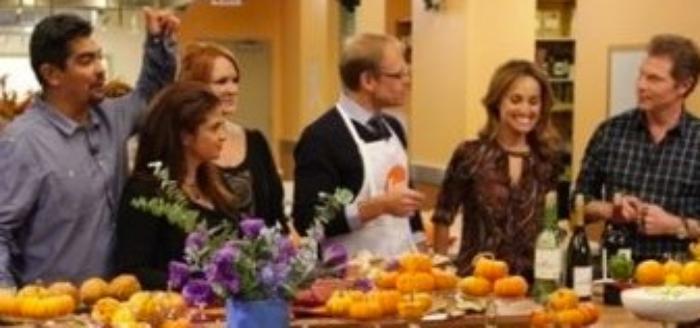 Cable TV networks broadcasting cooking shows have enjoyed ratings success with shows featuring delicious, rich natural ingredients made from scratch.
But if you not only watch these programs but also try a lot of their recipes in your kitchen, you could run the risk of putting on a few pounds. At least that's the conclusion of a study appearing in the journal Appetite.
The University of Vermont's Lizzy Pope, the study's lead author, says the message is pretty clear.
"Food TV should be a viewing experience only, not a cooking experience," she said.
On one hand these findings are hardly surprising. If you eat food rich in butter, cream and sauces, how could you not gain weight?
The study
But the scientists had to prove a correlation, so they asked 501 women between the ages of 20 and 35 where they got the information about the new foods they tried, how frequently they cooked from scratch, and then some physical data, like their heights and weights.

It turns out that women in the study who watched food television and cooked frequently from scratch had a higher body-mass-index, (BMI), weighing on average 10 more pounds than those who got their recipes from family and friends, magazines and newspapers, or cooking classes.
The researchers even found that people who frequently cooked from scratch using a recipe, but didn't watch food TV, did not have a higher BMI. More significantly the researchers say, is that women in the study who enjoyed watching the programs but did not cook meals from scratch also avoided the extra pounds.
Don't try this at home
"Those who are watching just for entertainment are fine," Pope said.
What's the takeaway from this? Study co-author Brian Wansink, director of the Cornell Food and Brand Lab, says the recipes on cooking shows are not the healthiest. Viewers feel like it's okay to indulge in either less nutritious food or bigger portions.
At the same time, Food TV is not all about high-calorie comfort food dishes. Food Network, for examples, also highlights quick and healthy recipes, including this one for a 20-minute broiled chicken dinner.
The study authors agree that there is plenty of blame to go around, and in fact found that people who try recipes they see on social media sites also had a higher BMI.
"It could be that seeing photos of 'perfect,' often rich foods your friends post on Facebook, Twitter or Instagram makes it seem like their unhealthy eating patterns are the norm," Pope said.
How food TV can help
Pope said Food TV producers can help their viewers eat healthier and more nutritious foods by using more recipes that demonstrate how food can look good, taste good, be exciting and be social.
Pope also leaves us with one final thought; making meals from scratch isn't always the best and healthiest option.
"It definitely can result in healthier food than eating out all the time, but only if you're cooking healthy recipes and healthy food," she said.
---