---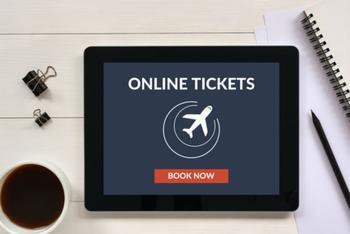 Aside from last spring's huge security bottlenecks at some airports and a computer outage or two, airline passengers have had a pretty good 2016.
Ticket prices are 6% lower than last year, but consumers who plan to fly during the holiday period need to prepare for higher costs and limited seats. At least, that's the assessment from Dean Headley, Airline Quality Rating (AQR) co-author and associate professor of marketing at Wichita State University.
Headley says demand for airline seats has been strong throughout the year, a product of a slowly improving economy. But prices tend to rise during the holiday travel period and Headley says consumers need to take that into consideration.
Book earlier than normal
He expects demand to be even stronger this year than in 2015. Book earlier than you normally would, he says, to ensure your travel plans. And don't overlook fees.
"Ticket prices may appear to be reasonable to slightly lower, but when the fees hit you, you truly feel that the overall cost of travel has gone up," said Headley.
In fact, the cost of air travel is going up, but airlines compete for passengers by posting the lowest fares. But the fare is not the bottom line cost of a ticket.
"A year ago the average price was $375, but with $75 in fees for bags and seat assignments, that ticket seems noticeably more expensive," Headley said.
If you are traveling with family members, those fees can quickly raise the cost of air travel. Headley says at some point, consumers need to decide whether getting there by air is worth the cost and the hassle. And make no mistake, there will be hassle during the holidays.
Things that can go wrong
All it will take is for a major snowstorm to sock a wide area of the eastern U.S., or for an airline computer system to suffer a glitch, and holiday air travel can become a nightmare. Despite improving performance as an industry, the travel experience for consumers has become more stressful and uncertain, especially during the holiday travel period.
"During the past several years, the holiday travel period has continued to be a challenging time for travelers, and with industrywide seat capacity adjustments, the possibility of bad weather and possible system outages, it will remain a stressful travel experience," said Headley.
Travelers may also face additional challenges due to the continued consolidation in the airline industries. When two airlines become one, consumer choices usually shrink. Headley says Alaska merging with Virgin America, United with Continental, Southwest with AirTran, and American Airlines with US Airways, has continued to change consumers' available options, as well as affect airline performance.
Sticking with airlines that have a good performance track record can improve your odds of trouble-free holiday flights. According to Headley, last year's best-performing airlines were Virgin America, JetBlue, Delta, and Hawaiian.
Hawaiian was best in getting there on time. JetBlue was best in avoiding overbooking. Virgin America was best in baggage handling. Alaska had the lowest rate of customer complaints.
---