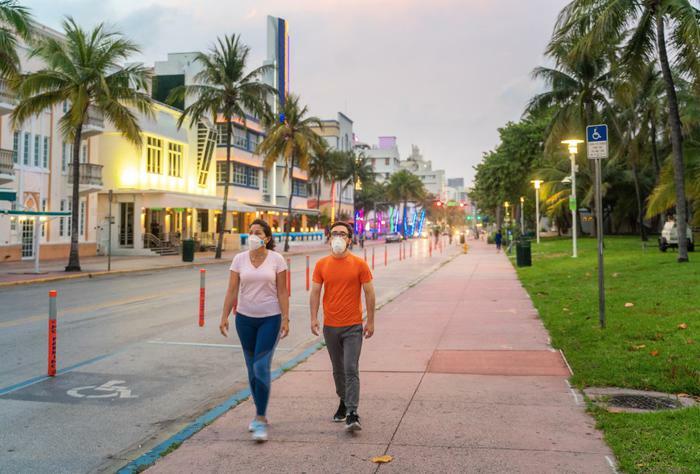 Florida Gov. Ron DeSantis has rejected the idea of giving people vaccinated against COVID-19 so-called "vaccine passports" in order to get into movie theaters, sporting arenas, and other places that have remained empty during the pandemic.
At a press conference on Monday, DeSantis said vaccine documents like those rolled out this week in New York are unnecessary and pose privacy risks. 
"It's completely unacceptable for either the government or the private sector to impose upon you the requirement that you show proof of vaccine to just simply be able to participate in normal society," DeSantis said. 
He said there are risks in letting large corporations handle consumers' vaccine information. 
"You want the fox to guard the henhouse?" he said. "Give me a break."
DeSantis said he will issue emergency rules this week that will block businesses from requiring proof of COVID-19 vaccination. He said the rules won't apply to schools and universities since they have different vaccination requirements, such as requiring students to be vaccinated against measles. 
Federal government won't issue vaccination passports
New York recently launched a voluntary digital "vaccination passport," called the Excelsior Pass, which state residents can use as proof that they have been vaccinated against COVID-19. 
New York Gov. Andrew Cuomo said the passport will make it easier to quickly reopen sporting, concert, and wedding venues and get the state's economy back on track. Madison Square Garden and the Times Union Center have already agreed to implement the system.
White House officials have said the federal government will refrain from administering vaccine passports due to the possibility that it could dissuade privacy-minded people from getting vaccinated. 
"We do know that there is a segment of the population that is concerned that the government will play too heavy-handed of a role in monitoring their vaccinations," White House senior adviser Andy Slavitt said on Monday morning. "In point of fact, it would discourage people, to feel like that was the role we're playing."
Slavitt said the government will instead issue guidelines and requirements to the private sector, which will help pave the way for the development of a "marketplace of solutions."