---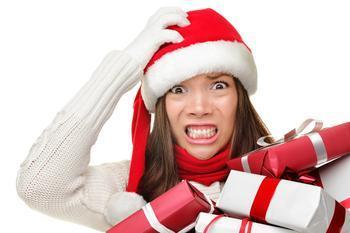 The holiday season has its bright spots, to be sure, but it can also bring with it a measure of stress. There are presents to buy, entertaining to do, budgets to stick to and diets to maintain.
For many, the holidays can bring out family tensions and even depression. Christine Moll, chair and professor of counseling and human services at Canisius College and a mental health counselor, deals with holiday stress issues each December.
She offers up five pieces of advice for reducing the amount of stress in your holiday.
Keep it real
"If a loved one has recently died or you aren't near your loved ones, realize that it's normal to feel sadness or grief, Moll said. "It's OK now and then to take time just to cry or express your feelings. You can't force yourself to be happy just because it's the holiday season."
Don't be afraid to reach out
If you feel isolated or down, seek out family members and friends, or community, religious or social services. They can offer support and companionship. Don't make it all about you.
"Consider volunteering at a community or religious function," Moll said. "Getting involved and helping others can lift your spirits and broaden your social circle. Also, enlist support for organizing holiday gatherings, as well as meal preparation and cleanup. You don't have to go it alone. Don't be a martyr."
Accept reality
Don't expect a fantasy Christmas. You aren't eight anymore. As families change and grow, traditions often change as well. Hold on to those you can and want to. But understand in some cases that may no longer be possible.
"Perhaps your entire extended family can't gather together at your house," Moll said. "Instead, find new ways to celebrate together from afar, such as sharing pictures, emails or videotapes."
Tis the season to set aside differences
"Try to accept family members and friends as they are, even if they don't live up to all your expectations," Moll said. "Set aside grievances until a more appropriate time for discussion."
With stress and activity levels high, the holidays might not be conducive to making quality time for relationships. And be understanding if others get upset or distressed when something goes wrong. Chances are they're feeling the effects of holiday stress too."
Stick to a budget
So much of the stress of the holidays is rooted in money. People can easily get carried away.
"Before you go shopping, decide how much money you can afford to spend on gifts and other items," Moll said. "Then be sure to stick to your budget. If you don't, you could feel anxious and tense for months afterward as you struggle to pay the bills. Don't try to buy happiness with an avalanche of gifts. Donate to a charity in someone's name, give homemade gifts or start a family gift exchange."
---