---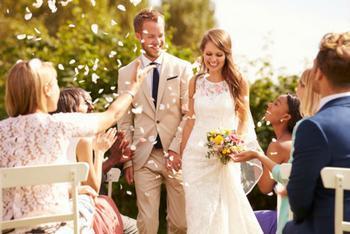 When it comes to tying the knot, couples today are making it a priority to weave unique touches throughout their special day.
Pinterest's top wedding trends of 2016 reflect this idea and hint at an underlying theme of making sure guests are just as happy as the couple.
Soon-to-be newlyweds are shaking up the concept of a straightlaced white wedding. Instead, they're looking to make the affair a fun, casual experience with something for everyone.
Five unique trends
Guest-appeasing experiences are the name of the game, but a few practical requests are helping to ensure that brides and grooms stay happy, both during and after their vows.
Unplugged weddings. Pinterest has seen a 600 percent increase in pins saved on this topic, and for good reason. Not only can devices take guests out of the moment, they can be a distraction. By taking a "no phones or cameras allowed" stance, couples can help guarantee they'll walk down the aisle surrounded by faces instead of phones.
Food trucks. Couples are seizing the opportunity to expand the meal offerings beyond chicken, fish, or vegetarian. Searches for food trucks at weddings are up 30 percent this year. Food trucks serving pizza or ice cream, for example, not only make a wedding feel more relaxed and casual, they're also typically more affordable than traditional catering.
Mismatched bridesmaid dresses. Brides are increasingly looking to give bridesmaids the option of personalizing their look. Searches for the trend are up 50 percent. Going the route of mismatched dresses can ensure that no member of the bridal party feels uncomfortable. To incorporate this trend, brides can choose a unifying color and then have bridesmaids find a dress they like that works with the color palette.
Honeymoon funds. Who needs a new mixer when you can make new memories? In lieu of registering for gifts, many young couples are setting up honeymoon funds. Searches for this new trend are up 200 percent this year. Sites like Honeyfund.com are making it possible for friends and relatives to pool money to send the newlyweds on their dream vacation.
Toss bars. Couples are skipping the rice in favor of having guests shower them in festive, tossable materials such as confetti, lavender, glitter, or popcorn. Pinterest has seen a 30 percent increase in the number of pins saved on this topic.
Click here to see more of the site's biggest wedding trends of 2016.
---