---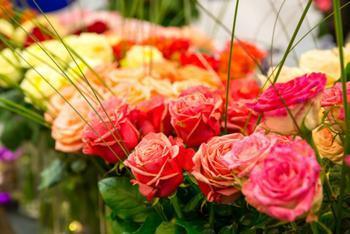 The rose is a classic flower whose bright pop of color is sure to add vibrancy to whatever garden it graces. 
Roses are undoubtedly easy to love, but they're also easy to grow. Roses will thrive in just about any garden -- but to get the most out of roses, gardeners will need to take care when choosing and caring for the bloom-adorned bush.
To help you enjoy the roses in your garden year after year, the experts at Weeks Roses have rounded up a few helpful tips.
Choose the right variety of rose 
Roses aren't a one-size-fits-all plant; different varieties (of which there are over 2,000) have different needs. Some, for example, may prefer to grow in containers, while others might appreciate the extra legroom found in your garden.
Selecting a rose solely for its particularly pretty blooms isn't the best idea, rose experts say. Instead, head to the garden center or nursery with a mind to consider certain factors such as bloom time, hardiness, and disease resistance. You'll also want to consider which variety will work best with your garden's climate.
Plant in the right location 
Roses are hardier than many might think, but drawing forth the natural hardiness of roses will require planting it under the right conditions.
Roses will produce the most blooms when planted in locations that receive six to eight hours of sunlight daily. Good soil is also a must.
Prune with care
Take note of whether you've got a once-blooming or repeat blooming rose variety on your hands. A once-blooming rose (such as antique rose varieties) will produce many blooms all at once during a growing season before abruptly calling it quits. Repeat bloomers will flower continuously throughout the growing season.
For once-blooming roses: prune after they flower. For repeat bloomers: prune in early spring before they bloom.
Water thoroughly
Overwatering, not underwatering, is the leading cause of rose plant death. Once a rose has gotten comfortable in its plot, it should only need to be watered once or twice a week.
Water roses deeply to encourage healthy root growth. Also, avoid watering with sprinklers or hoses as wet leaves are an open invitation for powdery mildew and diseases such as black spot.
Fertilize wisely
Roses are hungry plants that will need to be fertilized, but experts caution against overdoing it. Using too high a concentration of fertilizer can damage plants. Instead, gardeners should try alternating between compost and a balanced fertilizer.
---