---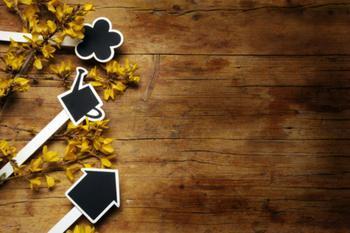 Planning on tackling a home project this summer? If so, you're not alone. Forty-six percent of Americans plan to redecorate or renovate their homes this summer, according to a recent survey from Bank of America.
But transforming your living space doesn't have to cost an arm and a leg. Sometimes, a little creativity is all it takes to give your home a fresh, new look.
Home design and DIY experts Ben and Erin Napier have mastered the art of redecorating on a budget. If you're looking to shake up your space, their budget-friendly tips and tricks are the perfect place to start.
Quick, easy, and affordable DIY tips
Put away your wallet and tap into your creative side for these tricks, which can help give your home a brighter, friendlier look. 
Hang mirrors. Natural light can transform a room, but you don't have to add expensive skylights or windows to achieve a light-filled look. Adding mirrors can help reflect light to every corner and make a room appear larger. Ben and Erin hang mirrors across both sides of a room, focusing on where the light is strongest.
Add plants. Infusing a little flora and fauna is another way to spruce up a space. To keep costs low, Erin Napier recommends using alternative planters. For example, try gussying up a Bundt pan from your kitchen to make a hanging planter. Simply paint it, drill holes in the sides, add twine for hanging, and fill the pan with your favorite plants, flowers, or herbs.
Create a gallery wall. A wall devoid of decor can make a room feel sparse and empty. To give an empty wall more pep, transform it into a gallery using second-hand frames and art. Give your gallery wall a more cohesive look by selecting pieces that following a theme (natural wood, black frames, or metallic, for example). Erin also suggests adding interest and variety by mixing textures, shape, and materials.
Use curtains to make a room look bigger. Could the simple act of changing the position of your curtains make your room feel more spacious? According to the Napiers, it can. To make your room appear larger, Ben recommends re-hanging your existing curtain rods at ceiling height, then extending the length by about a foot beyond the window on both sides.
Start an herb garden. Impress your guests by serving up seasonal recipes that feature herbs and spices straight from your garden. You don't have to live on a sprawling plot of land to plant an herb garden, either. Apartment dwellers and those without a yard can set up an indoor or container herb garden. After you've found the right planter or herb box, Erin suggests heading to your local garden center to purchase seeds and soil. Some of the easier, more versatile herbs to grow: Thyme, basil, rosemary, and oregano.
---