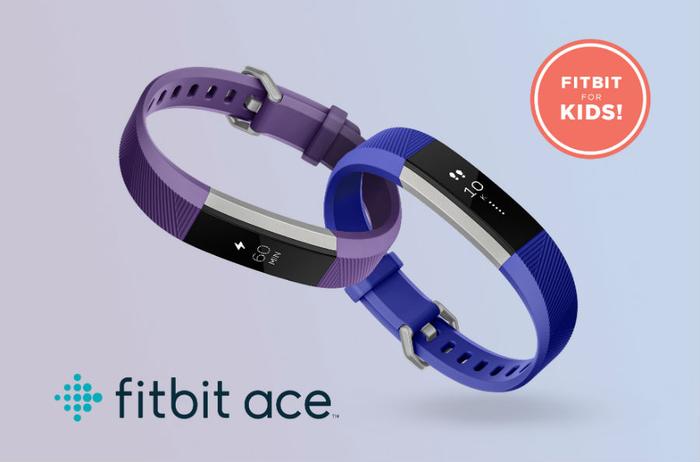 Fitbit has expanded its wearable tech product line, jumping into the kid's exercise tracking game and amping up its run at the smartwatch market.
Fitbit Ace is the company's new activity tracker designed for kids 8 and older. The unit tracks the same activities that traditional trackers do like steps and sleep, but it comes with a "family account" where parents can monitor activity and control who their kids connect with in the Fitbit app.
The kid-oriented tracker was developed out of a Fitbit research study that found most parents believe their children are less active than they were when growing up. Add to that the concerns about their child's weight, the foods they eat, and the universal worry over child obesity.
"As childhood obesity rates continue to rise, it's more important than ever to empower the entire family to embrace a healthy and more active lifestyle," said James Park, CEO and Co-founder of Fitbit.
"It can be hard to start and stick to good habits, and we know from our community that network effects are key to getting and keeping people motivated. By bringing that experience to families, it can make healthier habits feel more achievable by making it fun and engaging."
Fitbit Ace is priced at $99.95. It's available for presale on the company's website and expected in stores in the next three months.
A smartwatch designed with women in mind
The company's newest foray into the smartwatch market comes in the form of its smartphone-compatible Fitbit Versa. Fitbit claims that the unit will come with a simpler activity-tracking dashboard and enhancements such as on-screen workouts and on-device music. The company also says it will be the lightest smartwatch available on the market.
Part of the Versa's appeal is its intuitive personalization that takes cues from the wearer's activities. Prompts include reminders, celebrations, sleep summaries, and challenges from a user's social media network.  
One of the comparative advantages Fitbit is banking on for the Versa is its female focal point. The new device is designed to track menstrual cycles and keep tabs on a wearer's holistic data.
A recent Fitbit study found that there was a profound lack of awareness about women's health. Eighty percent of the women surveyed did not know how many phases are in a menstrual cycle and more than 70 percent were unable to correctly identify the average length of a cycle.
The smartwatch market continues to grow
The company's smartwatch launch couldn't come at a better time for its investors. The worldwide wearables market continues to grow and holds great promise. In the third quarter of 2017 total shipment volume reached 26.3 million units, up 7.3 percent year-over-year, according to the International Data Corporation (IDC).
"The differing trajectories for both smart and basic wearables underscore the ongoing evolution for the wearables market," said Ramon T. Llamas, research manager for IDC's Wearables team.
"Basic wearables – with devices coming from Fitbit, Xiaomi, and Huawei – helped establish the wearables market. But as tastes and demands have changed towards multi-purpose devices – like smartwatches from Apple, Fossil, and Samsung – vendors find themselves at a crossroads to adjust accordingly to capture growth opportunity and mindshare."
The Fitbit Versa is available for presale today at $199.95, with global retail availability coming in April 2018.