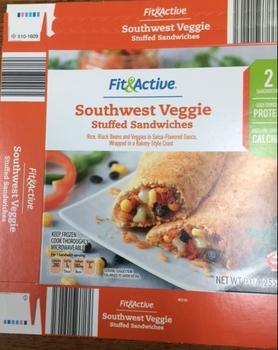 J&J Snack Foods Handheld of Holly Ridge, N.C., is recalling two lots of Fit & Active Southwest Veggie Stuffed Sandwiches.
The products may be contaminated with Listeria monocytogenes and Salmonella.
No illnesses have been reported to date.
The following products, which have Julian code production dates 20027230003106:15 and 20027235003115:13, are being recalled:
UPC Code
Brand / Label
Product Description
Best By Dates
0 4149815117 1
Fit & Active

Southwest Veggie

Stuffed Sandwiches

FEB 09 2019 &
FEB 14 2019
The recalled products were distributed between from August 22, 2017, - September 20, 2017, to Aldi retail stores in Alabama, Connecticut, Delaware, Florida, Georgia, Kentucky, Massachusetts, Maryland, Mississippi, North Carolina, New Hampshire, New Jersey, New York, Ohio, Pennsylvania, Rhode Island, South Carolina, Tennessee, Virginia, Vermont and West Virginia.
They were also available for purchase to Aldi customers in the Atlanta area through the company's partnership with Instacart, a grocery delivery service.
What to do
Customers who purchased the recalled products should discard them or return them to the place of purchase for a full refund.
Consumers with questions may call (856) 532-9064 Monday – Friday, 7 a.m. – 4 p.m. (ET).