---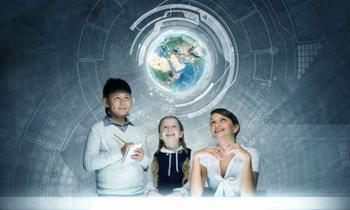 Families of the future are in for a tech-immersive child-rearing experience if Fisher-Price's vision of the future is any indication. The toy company recently teamed up with Continuum, a global innovation design consultancy based in Boston, to create a short video called "The Future of Parenting."
The video -- which debuted earlier this month at South by Southwest (SXSW) -- sought to imagine all the ways technology will help next generation of families raise and care for children.
While some of the hologram-filled video is a bit idealistic and "may never happen," Fisher Price believes many of the possibilities illustrated may not be too far off.
In the video, a 3D printing device is shown helping a child's depiction of an owl come to life in the form of a new toy. A digital-age version of Fisher Price's classic "Rock-a-Stack" rings also makes an appearance in the video, but the new version is smarter.
Fisher Price, a company that focuses heavily on learning through play, imagines that the stacking rings of the future actually recognize that the child has never stacked the rings in order before and offers up a little victory celebration upon completion.
Higher-quality items
The video also focuses on the values of younger Millennials and seeks to imagine what the Fitbit-wearing, smartphone savvy group will covet as parents. High-quality items and the less-is-more approach are both featured concepts.
"We know the parents, the younger millennial parents, do have that desire [to own less]," Mark Zeller, head of design at Fisher Price, tells FastCompany. "And I think that speaks to us to raise the quality of materials. That way, parents are buying fewer, higher-quality products and toys."
Younger Millennials, who seem infatuated by tracking devices, might indeed be intrigued by the smart feeding tray featured in the video. The tray is user-connected, shown helping mom determine how much of certain foods a child should eat based on age and weight.
But, says Zeller, the difference between the data trackers of now and the data trackers of tomorrow is that they'll be less judgemental -- focused on information rather than assessment. 
A paper explaining the thinking behind the video can be viewed here.
---