---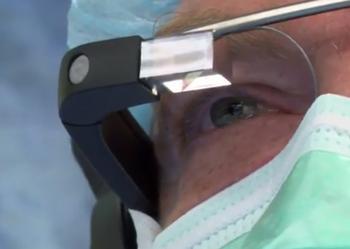 Google Glass initially appeared to be just another frivolous, time-wasting, geekish gadget but it may turn out to have quite a few practical applications as well.
Last week, we reported that police and first responders were taking an interest in the tiny device that includes a camera and the ability to quickly look up data, including maps, on the Internet.
And now a surgeon at The Ohio State University Wexner Medical Center has become the first in the United States to consult with a distant colleague using live, point-of-view video from the operating room via Google Glass.
"To be honest, once we got into the surgery, I often forgot the device was there. It just seemed very intuitive and fit seamlessly," said Dr. Christopher Kaeding, the physician who performed the surgery and director of sports medicine at Ohio State.
Story continues below video
Kaeding wore the device as he performed ACL surgery on Paula Kobalka, 47, from Westerville, Ohio, who hurt her knee playing softball. As he performed her operation at a facility on the east side of Columbus, Google Glass showed his vantage point via the internet to audiences miles away.
Across town, one of Kaeding's Ohio State colleagues, Dr. Robert Magnussen, watched the surgery his office, while on the main campus, several Ohio State medical students watched on their laptops.
"To have the opportunity to be a medical student and share in this technology is really exciting," said Ryan Blackwell, a second-year medical student who watched the surgery remotely. "This could have huge implications, not only from the medical education perspective, but because a doctor can use this technology remotely, it could spread patient care all over the world in places that we don't have it already."
Experts have theorized that during surgery doctors could use voice commands to instantly call up x-ray or MRI images of their patient, pathology reports or reference materials. They could collaborate live and face-to-face with colleagues via the internet, anywhere in the world.
---