---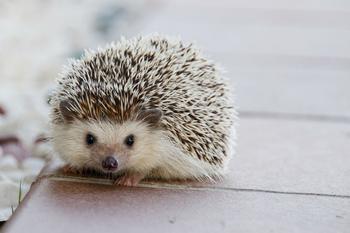 You might have heard of a cat cafe, where visitors can cozy up to a cat as they sip a hot beverage. Now, the country that first came up with the concept -- and that of an "owl cafe" -- is giving another creature the spotlight. Tokyo's first ever hedgehog cafe is now open for business.
For a fee of 1,000 yen ($9) on weekdays (1,300 yen on holidays), visitors to Harry hedgehog cafe can spend an hour of quality time with one of 20 or 30 different hedgehog breeds. Salt and pepper, albino, brown, and cinnamon are just a few of the breeds awaiting human company.
The name Harry comes from the Japanese word for hedgehog, harinezumi; "Hari" means needle. Harry's staff says the cafe could help change the prickly mammal's reputation as being "hard to handle."
Holding a hedgehog
Despite the fact that hedgies have between 5,000 and 6,500 quills, they're actually quite easy to hold and make great pets. When relaxed, a hedgehog's quills lie down (meaning your hands won't be pricked). Some describe the feeling as being similar to touching a hairbrush or a bunch of straws.
When a hedgehog goes into defense mode, his quills will rise. If this happens while you're holding him, experts say it won't break the skin. New quills are sharper, but most owners say raised spikes feel like toothpicks on your hands.
When it comes to determining whether or not a hedgehog feels comfortable, look at its face. If the "visor" comes down over his eyes, it may be a sign that he's not quite in the mood for a cuddle. But when you do get to see the faces on these prickly creatures, animal lovers say it's a real treat. 
"The cutest thing about hedgehogs is getting them to finally open up and show you their face," cafe worker Mizuki Murata tells the Guardian.
Murata says there have been lines of eager customers waiting outside Harry's since it first opened. They've even had to take reservations.
---