---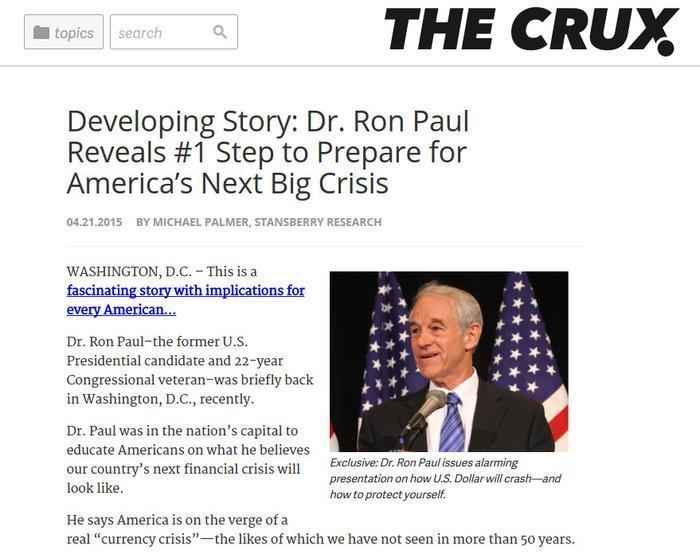 Former Texas Congressman Ron Paul has been getting more screen time lately than his son Rand, who is seeking the Republican presidential nomination.
The senior Paul, who sought the GOP nomination himself representing the Libertarian wing of the party, is a Tea Party favorite and harsh critic of the Federal Reserve. His image is all over the Internet and cable TV under the dire headline "Crisis Bigger than 2008 is coming!"
Though in many of its Internet placements it looks like a news story, it is actually an advertisement for a company called Stansberry Research. In a video infomercial produced by the company, Paul warns of a coming currency crisis affecting the U.S. dollar that he says will wipe out the savings of millions of Americans, primarily seniors.
"It's not a question of if this will happen," Paul says confidently in the video, "but when."
Stansberry research, which says you can protect yourself and even profit from the coming crisis, doesn't sell annuities or other investment products. It describes itself as a publisher, producing financial newsletter and reports about those products and the financial landscape in general.
Disclaimer
"Under no circumstances should you construe anything that appears in our newsletters, reports, or on our website as personalized investment advice," the company declares in its disclosures. "Our recommendations and analysis are based on Securities and Exchange Commission (SEC) filings, current events, interviews, corporate press releases, and what we've learned as financial journalists. It may contain errors, and you shouldn't make any investment decision based solely on what you read here."
In other words, the company looks at publicly available financial data and draws its own conclusions, publishing those opinions in reports and newsletters that it sells to the public. Nothing wrong with that.
It's just using a strong dose of fear to close the deal. And it isn't alone.
Prepring for World War III
Another frequent Internet warning comes from Money Morning, another financial publisher, with the headline "CIA insider breaks silence of global currency wars." It features a video interview with former CIA operative Jim Rickards, who warns U.S. intelligence agencies have begun preparing for World War III.
Like Paul, Rickards traces the problem to the Fed, charging it is essentially broke. But in the video, he outlines specific investments that he says could profit in such a catastrophic environment. For its part, Money Morning is a bit less emphatic.
"Readers should be aware that although our track record is highly rated, and has been legally reviewed for presentation in this invitation, investment markets have inherent risks and there can be no guarantee of future profits," its disclaimer reads. Likewise, our past performance does not assure the same future results. Warning: The past performance of any trade whether actual or hypothetical is not necessarily an indication of future results."
Remember gold?
In fact, investors would be wise not to be swayed by scary pitches. One only has to remember 2011 and 2012 when the Internet and cable TV airwaves carried countless ads urging investors to sink their money into physical gold to protect themselves from impending financial doom. As we reported last year, investors who followed that advice haven't fared so well.
In the post-financial-crisis environment, investing profitably isn't easy and there are plenty of things to consider and even worry about. But like most important decisions, ones involving finances should be based on careful reason rather than fear.
Actually, Stansberry Research offers some pretty good advice, buried deep within its disclosure.
"If you are not an experienced investor, we urge you to get as much education as possible and to consult a licensed individual advisor before making investments of any kind."
You can find a Certified Financial Planner here. 
---